Grant Thornton Has Published a New Update Regarding Cryptopia Liquidation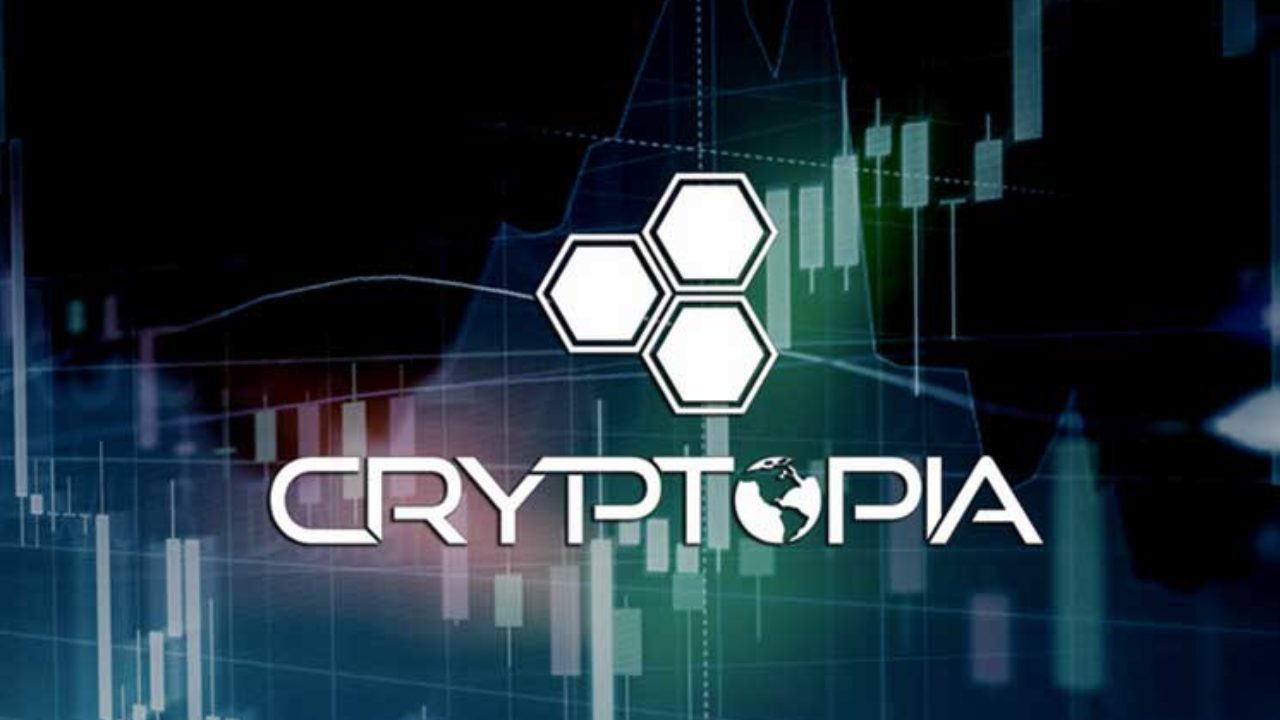 The liquidators of the hacked New Zealand's crypto exchange Cryptopia has released a new update regarding Cryptopia liquidation.
We have undertaken a significant legal process to further secure the crypto-asset holdings. This is a very positive development.
We have obtained Chapter 15 Bankruptcy Recognition in the United States. Now that the Recognition Order has been entered, certain protections apply to Cryptopia and its property within the territorial jurisdiction of the United States. An "automatic stay" is effective and acts as a moratorium in favour of Cryptopia and its property within the territorial limits of the United States concerning pre-petition claims including litigation (whether class action or otherwise), creditor collection efforts with respect to Cryptopia's assets in the United States, and efforts by contract counterparties to terminate contracts with Cryptopia.
A similar automatic stay against legal action is also in force under New Zealand insolvency law.
They Also added:
We continue to liaise with our legal advisors to determine how crypto-assets could be returned to customers. However, due to the January hack, this is a complex and time-consuming process. For example, an Exchange that has been hacked cannot simply be reopened. We have certain legal requirements and obligations both in New Zealand and internationally that liquidators must meet, such as Anti Money Laundering/Know Your Client (AML/KYC) requirements when considering any repayment or return of assets.
Most probably this means Cryptopia users who did not fill out KYC won't be able to recover their coins again. This a really bad move from Cryptopia against it's users.
KuCoin Exchange Loses US $5.6 Million in a Hack Attack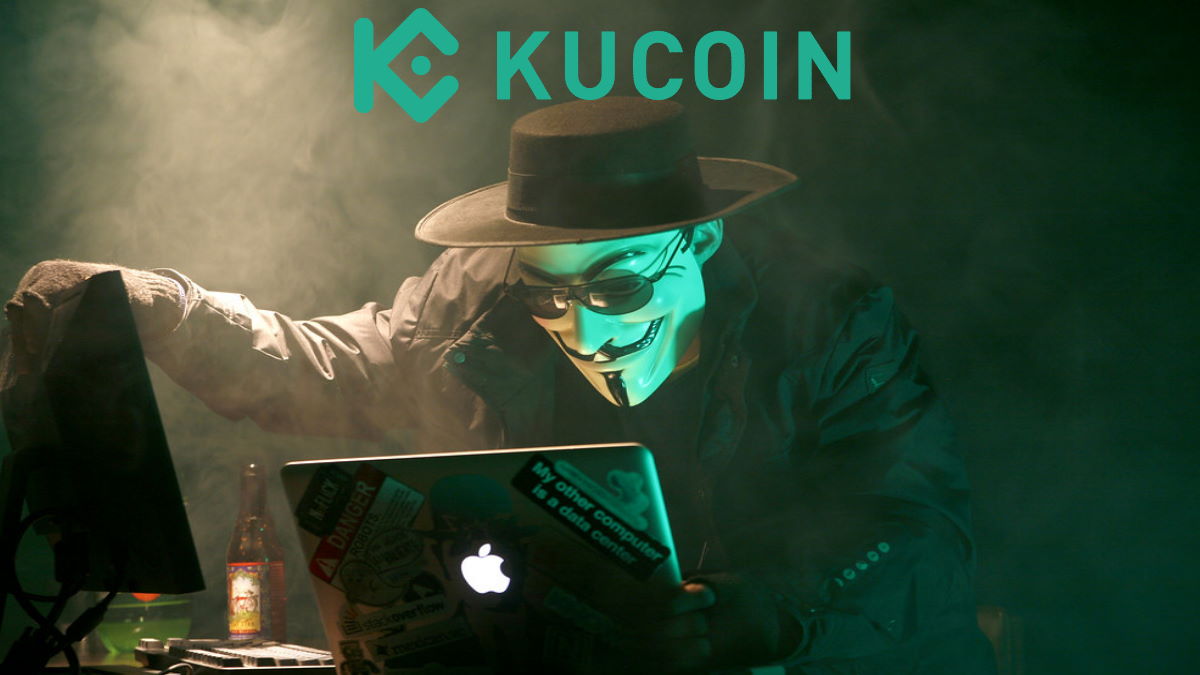 KuCoin , the cryptocurrency exchange has announced that it has suffered a security breach which saw malicious hackers access its hot wallet and steal funds worth around US $5.6 million.
According to the official Twitter account of KuCoin, the exchange staff detected some large withdrawals since Sep 26 at 03:05 UTC+8. Some BTC, ERC-20 and other tokens in KuCoin's hot wallets were transferred out of the exchange, which contained few parts of our total assets holdings.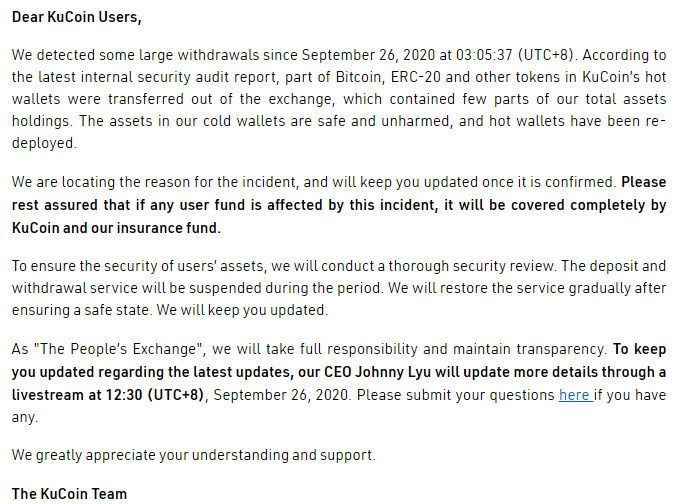 KuCoin has not announced the exact value of the stolen funds, but according to blockchain tracker and analytics system, Whale Alert, around US $5.6 million worth of coins were transferred out of KuCoin's Wallets.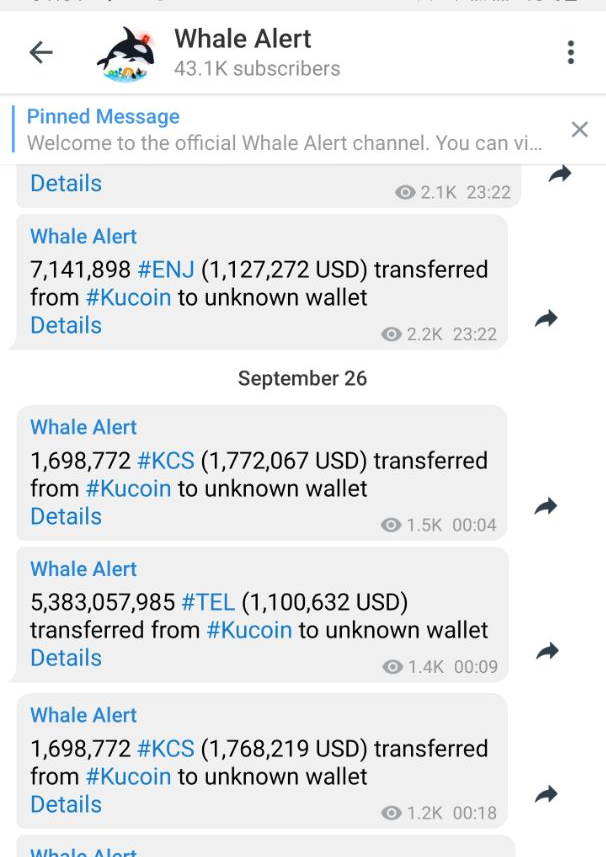 Kucoin's users on Telegram are reporting being blocked on withdraws.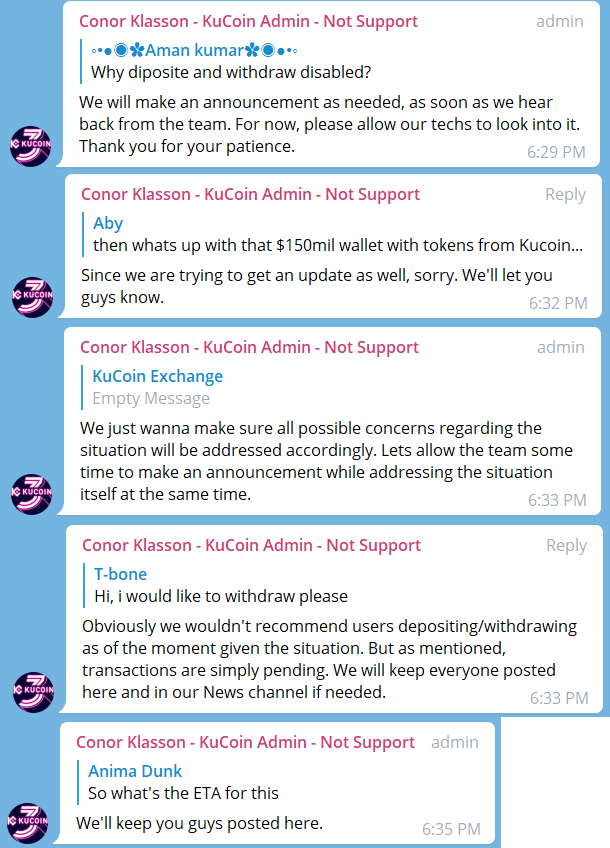 Kucoin's official coin "KCS" price dropped 10%-15%, following hacking news.
KuCoin is a Hong Kong based cryptocurrency exchange. Launched in September 2017, KuCoin has grown into one of the most popular crypto exchanges and already has over 5 million registered users from 200+ countries and regions. According to Alexa traffic ranking, KuCoin's monthly unique visit ranks the top 5 globally.
BNB's Price Spiked Over 27% Amid Listing Bella Protocol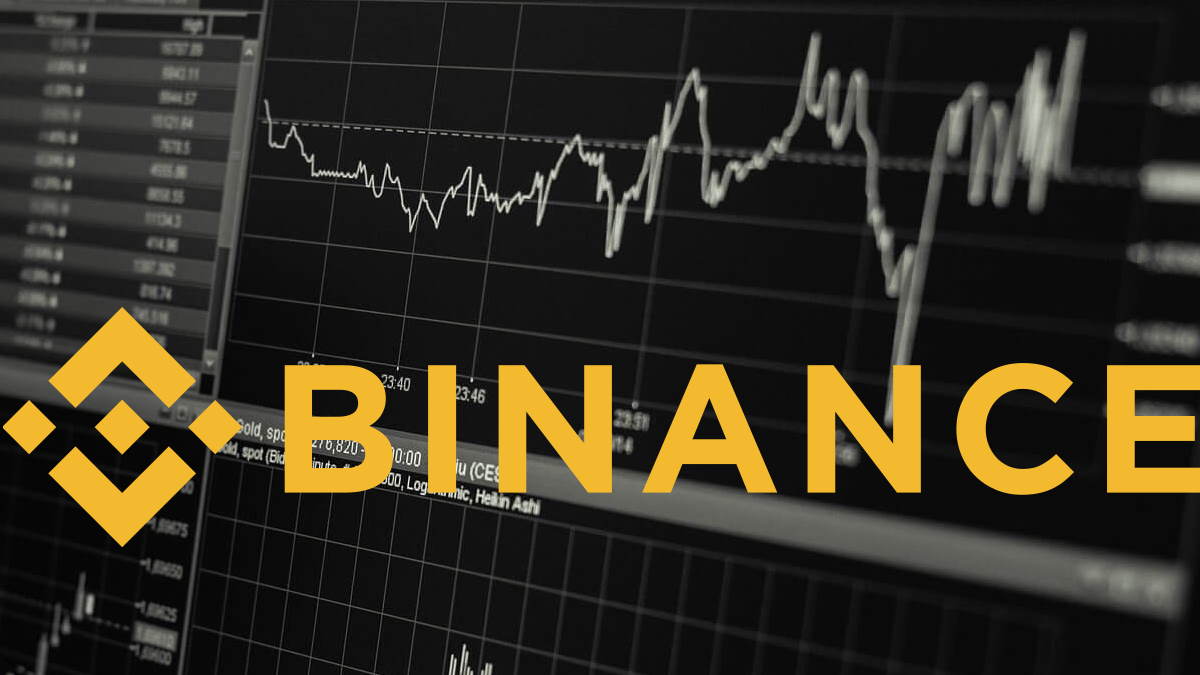 Binance's coin (BNB) price spiked over 27% in the past couple of hours amid listing Bella Protocol (BEL) on Bianace's LaunchPad. BNB holders will be able to earn and acquire new token rewards in return for staking BNB, BUSD, and ARPA tokens.
BNB coin volumes spiked and the price jumped from $18.49 to $23.59 within few hours.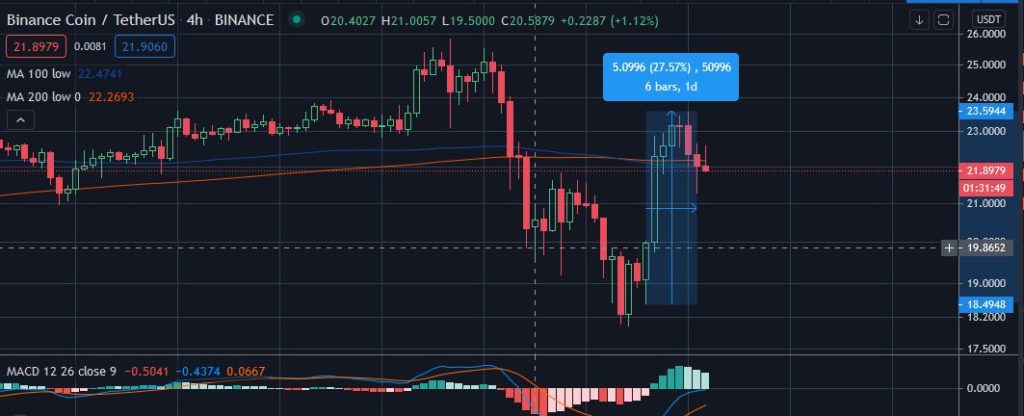 BNB coin holders will be able farm BEL tokens over 30 days, starting on September 9th. Binance will then list BEL on September 16th and open trading for BEL/BTC, BEL/BNB, BEL/BUSD, and BEL/USDT trading pairs.
Bella Protocol is a user-friendly Decentralized finance (DeFi) and also an asset management platform with very low transaction fees. They claim that these initiatives will offer a more seamless user experience for DeFi investors.
BEL is an ERC20 token and is the governance token in the Bella ecosystem. The total supply of $BEL is 100,000,000. BEL coin holders will be able to earn profit sharing, get fee discount, staking rewards, and voting power in the Bella ecosystem.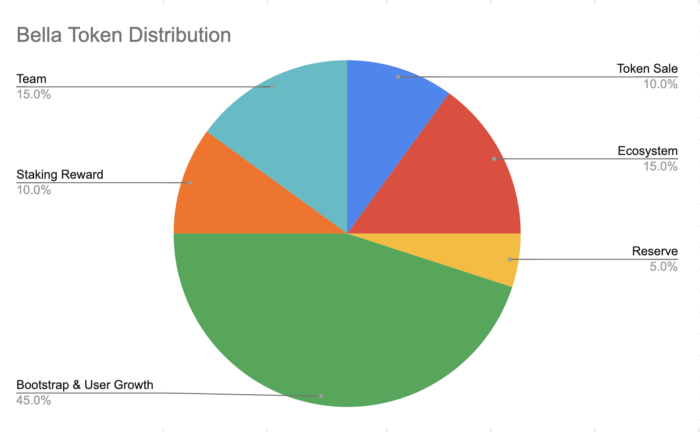 BNB/USD Price Chart
Crex24 Will Be Delisting Eight Low Caps Coins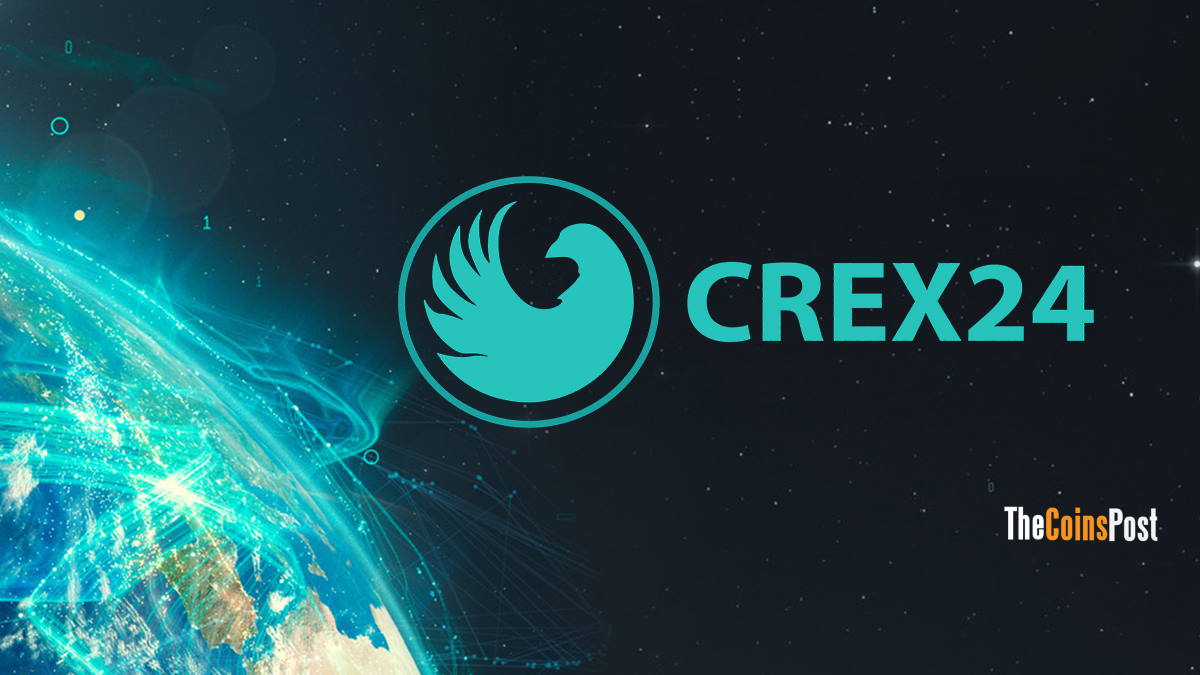 Crex24 cryptocurrency exchange announced on the official Discord channel that it will be delisting eight cryptocurrency coins. Crex24's team will be paying compensation to the holders of these coins.
The delisted coins are:
Internet Cafe Coin (ICC)
Bitcoin5000 (BVK)
Brazuk Coin (BZK)
Intercrone Coin (ICR)
Methuselah Coin (SAP)
Troca Coin (TNJ)
Viridi Coin
Win Coin (WC)
Trading on these coins will be suspended as of 29th, August.
Crex24 cryptocurrency exchange was established on 2017 and it's known for it's offers low commission fees.