A Full Review: Utopia A New Decentralized P2P Blockchain
Utopia is a brand new decentralized network that enables you to Chat, send Text Messages, Emails, share files, host a wallet, earn through mining, perform financial transactions and much more while you stay anonymous and secure.
Utopia uses it's own crypto currency, it's called Crypton (CRP). Every Utopia's user can mine, send and receive Cryptons through Utopia Main application. The mining itself would require you to leave Utopia application running, it would use some of your PC's RAM.
Utopia just launched a beta version of it's network. So I decided to test it out and i would say that i am impressed :). I would advice you to give it a try if you are interested in Decentralized Technology.
First you will have to sign-up through Utopia Website, download Utopia software for Windows, Linux or Mac (around 175 MB), install it, activate and run it.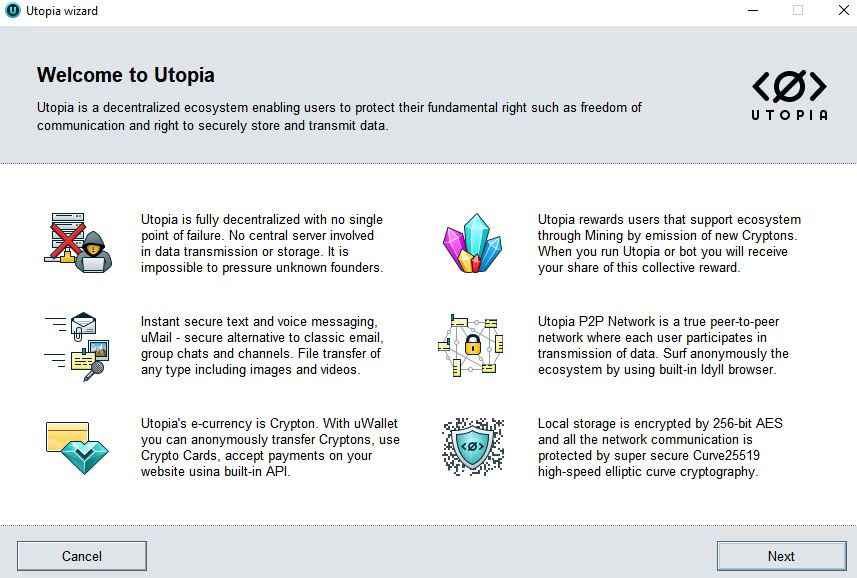 Utopia application has a simple and an eye catchy user interface. The first time it launches it will open the official channel main chat where you can chat in channels or send private messages to Utopia users.
You also can use Utopia to send decentralized emails through Utopia uMail (Currently it only supports sending emails to Utopia users)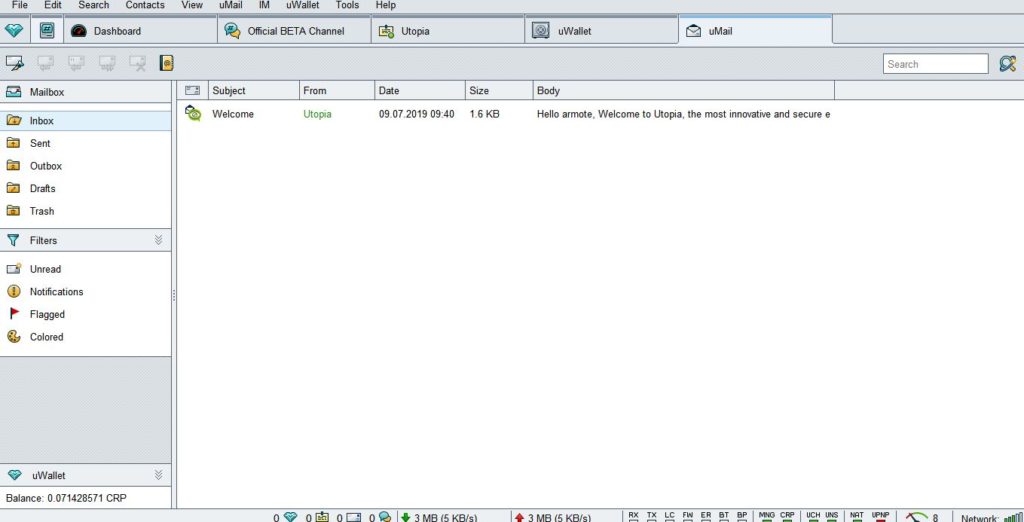 As for the wallet, as mentioned you can earn Crypton coin through RAM mining. I left Utopia application running for 30 minutes and i earned some Cryptons. Yay!.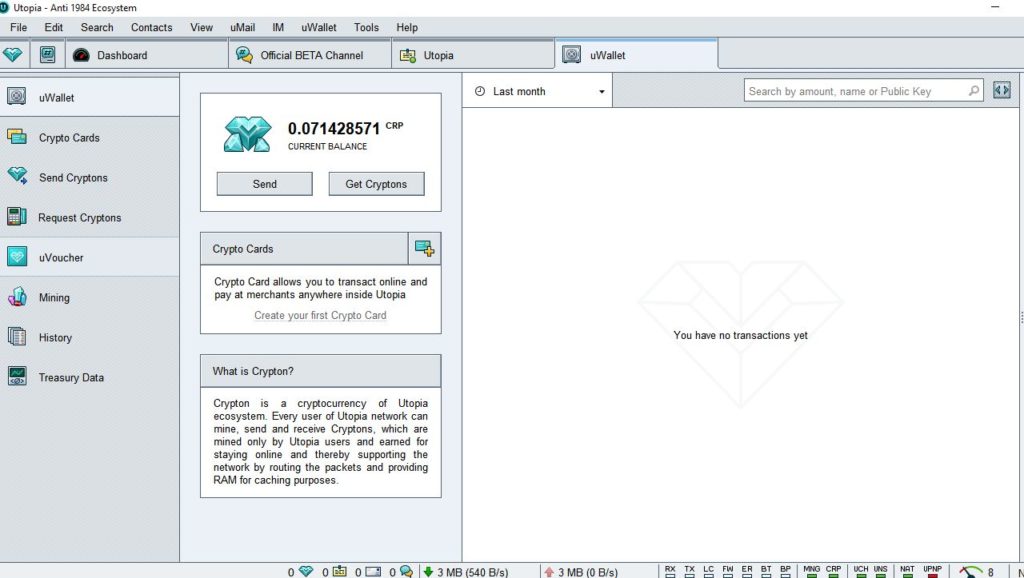 When you request payment you will need to reveal your Public Key. yet, in Utopia you can recieve payment using an option called Crypto Card, but there is a small fees for it paid using Crypton.
You can allocate some RAM for mining, the more RAM the more mining threads the more rewards.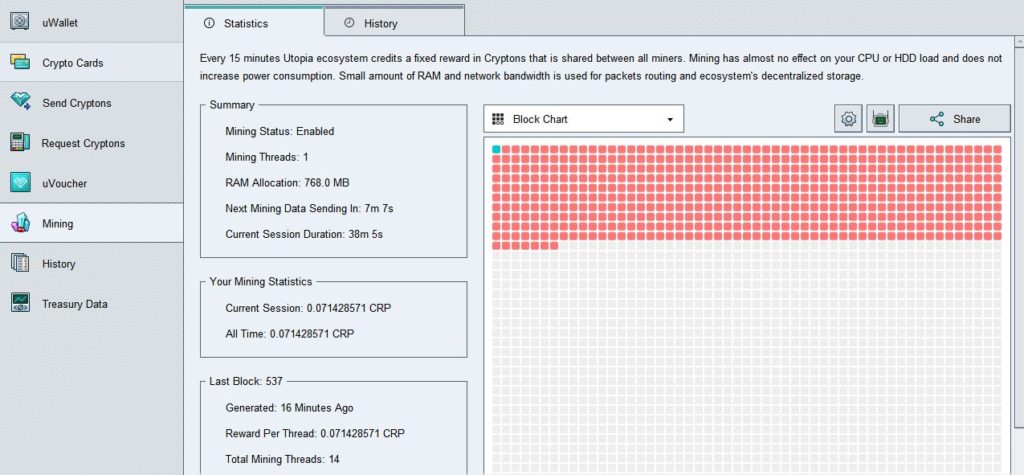 If you have ideas, you can submit it through Utopia Web where community can vote. Points are earned through voting as well.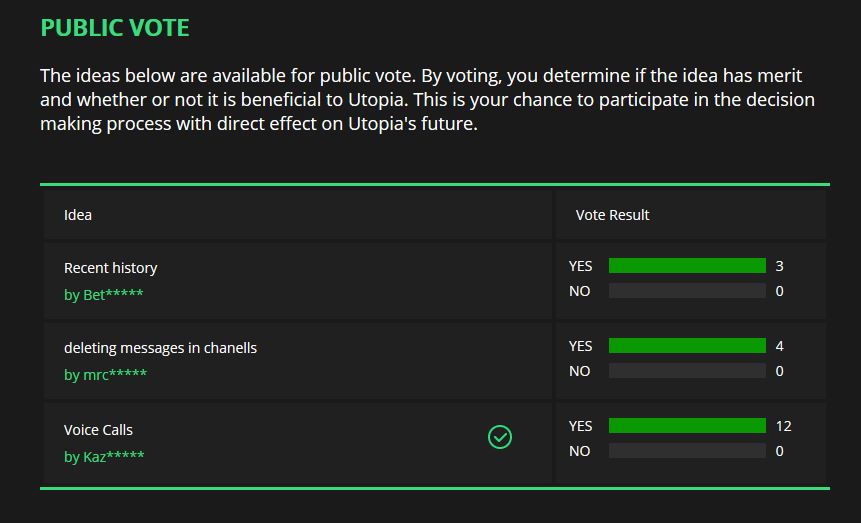 Again, i have enjoyed using Utopia, i will be leaving it running on my PC for a while so i can earn some Crypton. feel free to register using my referral link so i can earn some Crypton
Video: TEDx – A Blockchain-based Decentralized university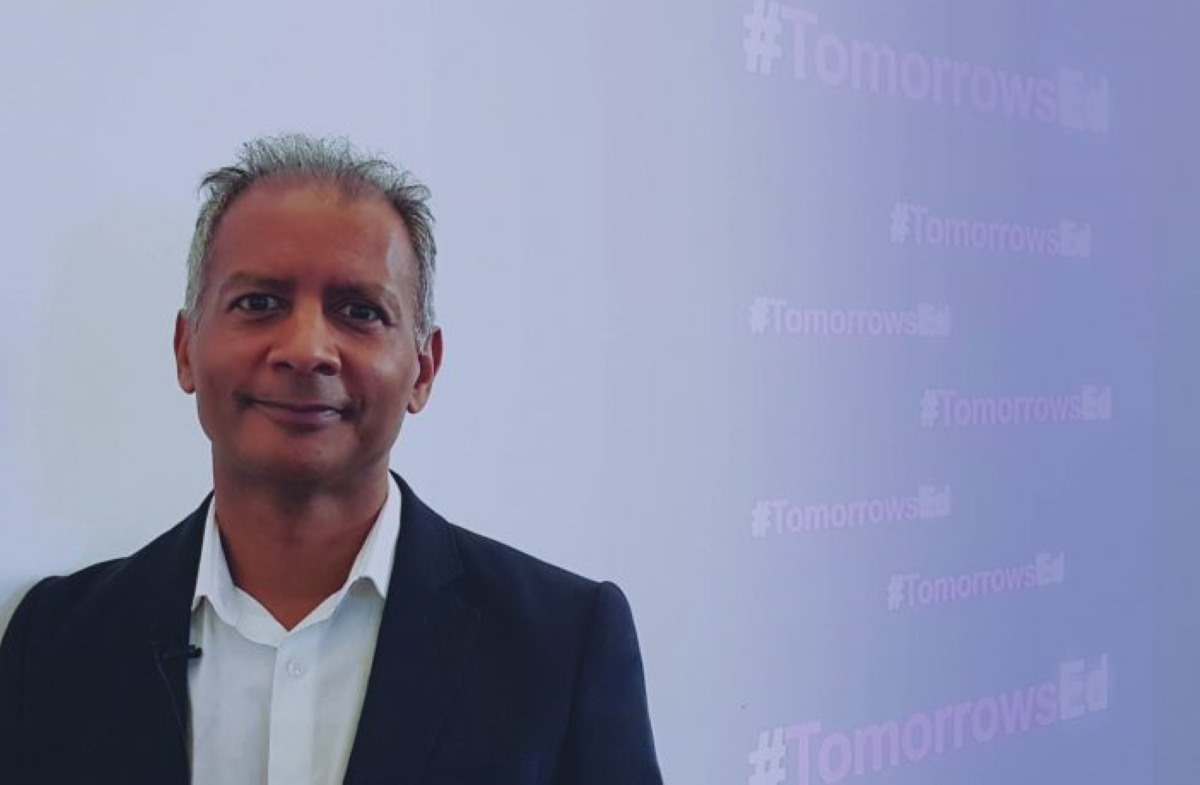 Professor John Domingue, Director of the OU's Knowledge Media Institute, discusses developments in technology at TedX
I believe that with blockchain technology we can create a radically new type of university: a DAO University. A DAO is a Decentralised Autonomous Organisation which operates with no central control and no humans in the loop and are based on Smart Contracts: pieces of computer code on a blockchain which can represent and enact financial and legal contracts.
In a DAO University value and reputation associated with teaching and learning would be accounted for through a blockchain with no central control. Instead the whole learning community would agree how the educational elements, for example, learning materials, teaching resources and teaching delivery are shared and recompensed.
A DAO University is a next step evolution in higher education. A born digital community owned educational institution for the 21st Century. Open University Professor. Director of the Knowledge Media Institute and President of STI International. Published over 270 articles in the areas of semantics, the Web, distributed ledgers and eLearning. Instrumental role in the EU-funded project, QualiChain, which aims to revolutionise public education and its relationship to policy making and the labour market.
*Video Courtesy Of TEDx.
Syria Might Issue a New Digital Currency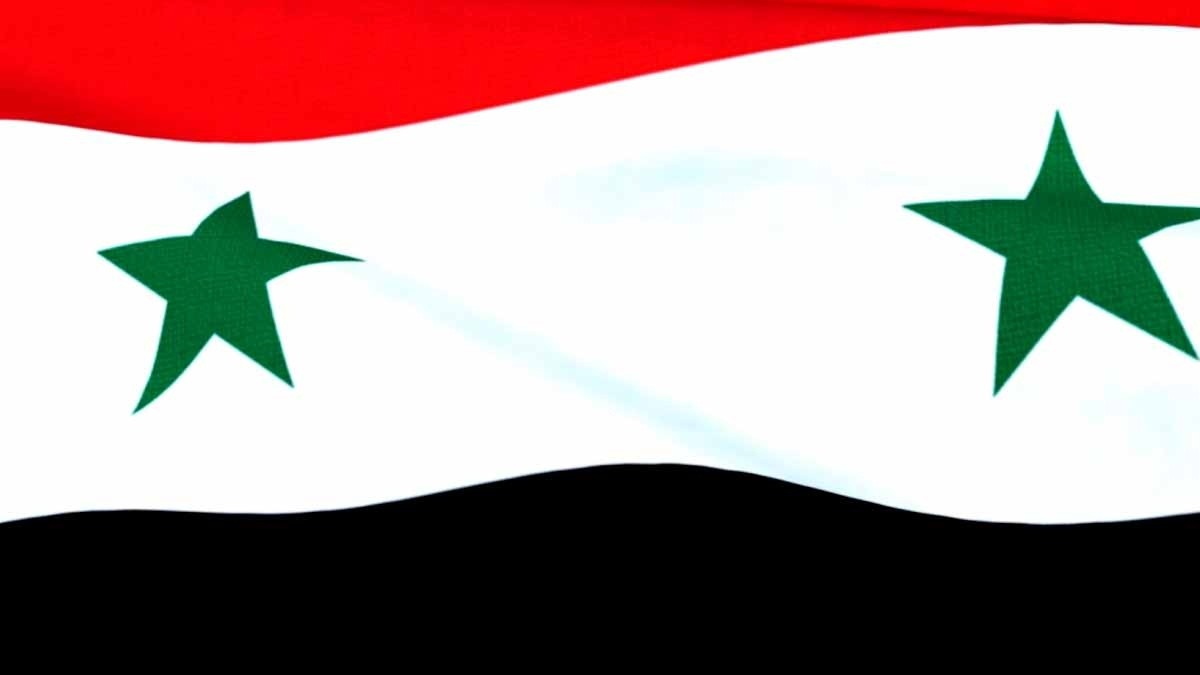 Soreyaty, a Syrian company has revealed the completion of a new digital currency which will go by the name of e-Lira. The new cryptocurrency will be launched on January 1st, 2020.
According to Al-Iqtisadi (a Syrian financial news portal), Soreyaty's CEO Fadi Shammout, told Al-Iqtisadi that the new digital currency will be a stable currency backed by real fiat money and will replace US dollars in all of Syria's foreign trade and transactions, such as imports and exports.
Soreyaty will open local exchanges all across Syria, so Syrians can exchange the new cryptocurrency with fiat.
The economy of Syria has deteriorated considerably since the beginning of the Syrian Civil War in 2011. Syria's decreased economic output has also lead to a trade deficit of epic proportions. As a result of the war, Syria's total exports have eroded to a mere 5% ($622 million) of the country's 2008 total ($13.3 billion). The country currently faces a trade deficit of $3.8 billion.
The U.S. government has imposed a series of economic sanctions on Syria. These include legislatively mandated penalties, including export sanctions and ineligibility to receive most forms of U.S. aid or to purchase U.S. military equipment.
Sweden Launches a Digital Currency
Sweden just announced the launch of the "e-krona", it's own central bank digital currency in a new pilot platform. Sweden's central bank (Riksbank ) will sign an agreement with IT consultancy firm Accenture to create a pilot platform for a it's new cryptocurrency.
The primary objective of the e-krona pilot project is to broaden the bank's understanding of the technological possibilities for the e-krona

the Riksbank said in a statement.
Sweden has been working hard to eliminate the use of cash. It introduced negative interest rates and bitcoins are in high demand since citizens now see cryptocurrency as a way to store wealth. There are many Bitcoin startups that launched in Sweden, including KnCMiner and Safello. Cryptocurrency demand is growing in Sweden and there are no signs that this will stop.