Project Review: Earn Free Crypto Via AirdropRating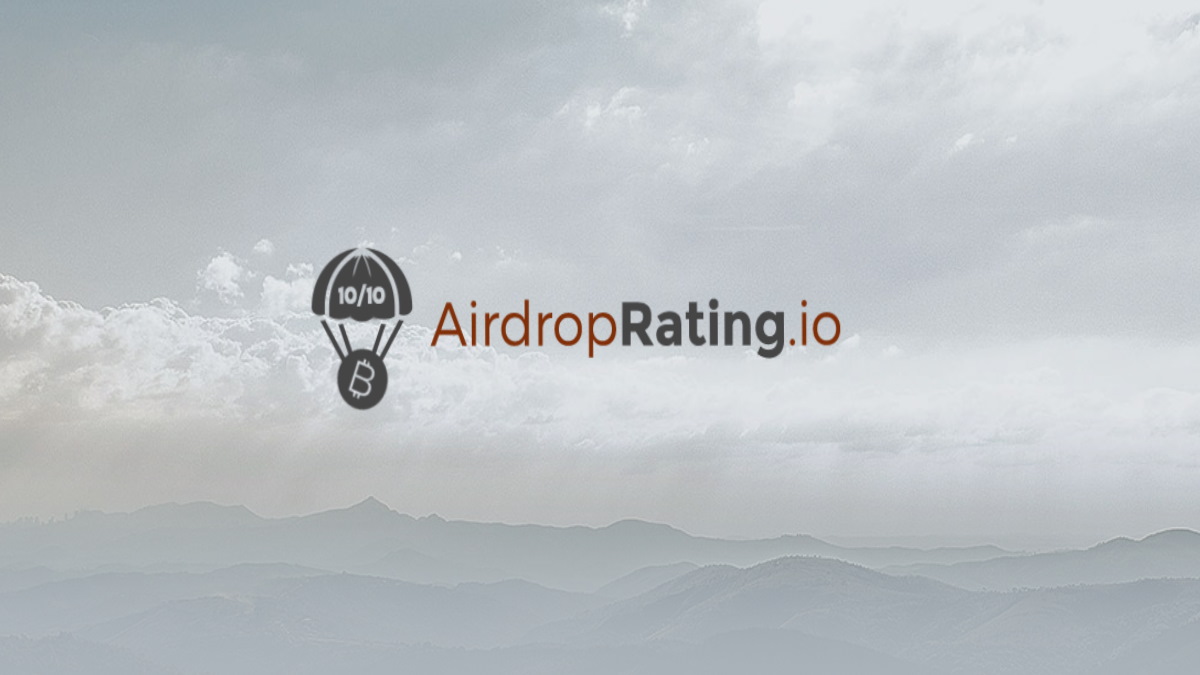 Crypto airdrops are the easiest way to earn free cryptocurrency. The idea behind crypto airdrops is quite simple. It involves a crypto business (usually new and start-ups crypto projects) sending free coins or tokens to wallet addresses of the Airdop's participants in order to promote awareness of a new crypto brand and to increase their social links followers.
Usually airdrop campaigns will also offer the chance to get additional free tokens for referring others via a unique referral link which can posted on social media.
Airdrops are generally promoted on the Airdopper's website as well as on their social pages or just via crypto Aidrops platforms such as AirdropRating.
Today, I had the chance to check AirdropRating.io, a free Crypto airdrops platform where you can earn free cryptocurrency coins by participating and completing some social and micro tasks.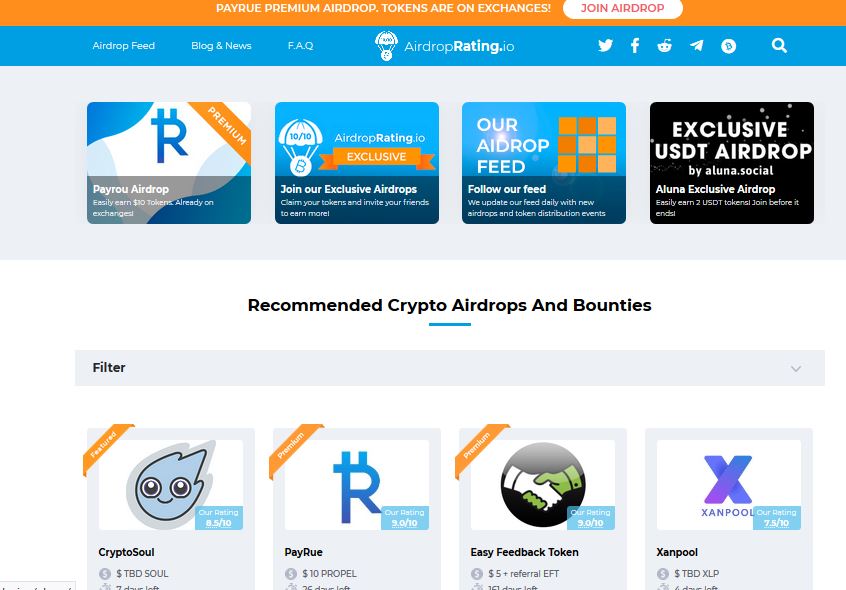 The platform itself is simple, and it seems to be round for quite some time. It has a neat design and dose not require any sort of registration, all what you have to do is just browse the listed Airdrops, follow the instructions and earn free crypto.
Each listed Airdrop project is rated by the AirdropRating.io's team to make sure that the listed projects are legitimate crypto projects and to avoid the scammy ones.
Conclusion
Airdrops are a fun way of getting into cryptocurrency and finding out about new crypto projects, but unfortunately the concept of crypto Airdrops was abused by some crypto scammers. Therefore, it is imperative to carry out due diligence before opting to participate in free token distribution programs.
In light of this, AirdropRating.io's team is doing a great job by filtering the public crypto Airdrops and rating them. Thumbs up.
Mask Network, The Decentralized Social Media Platform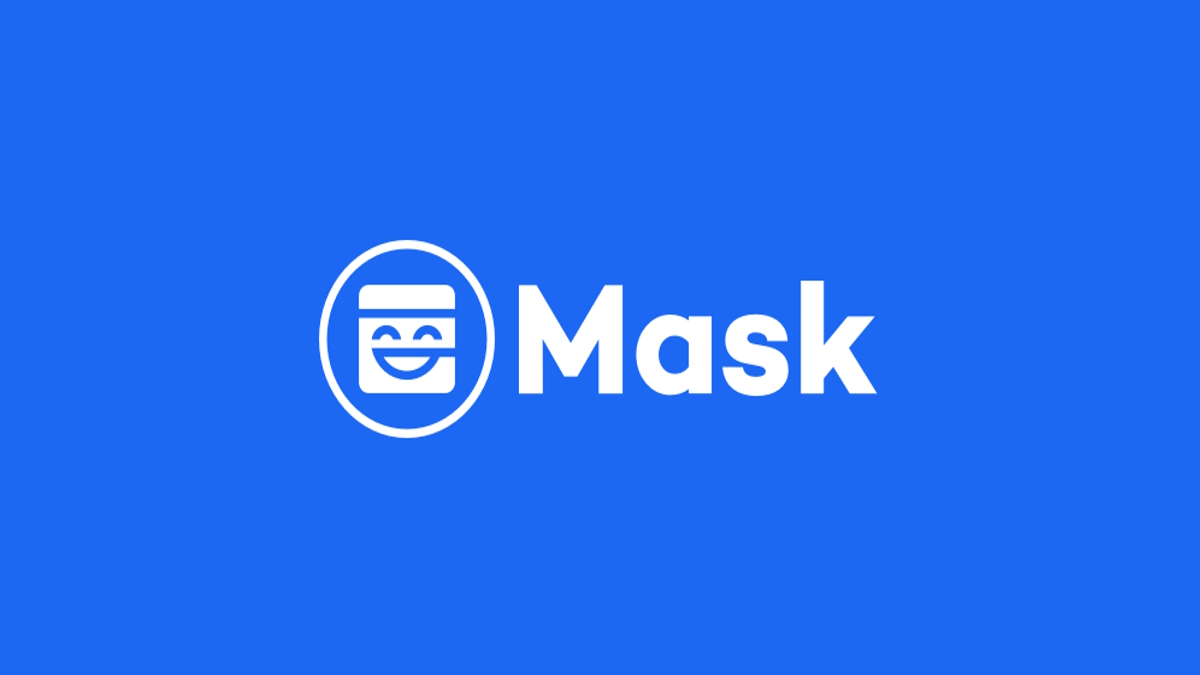 The Mask Network, also known as Maskbook, is a decentralized social media platform that aims to provide users with more privacy and freedom of expression online. It is built on the Ethereum blockchain and utilizes a combination of smart contracts and decentralized storage solutions to provide a secure and decentralized social media experience.
Main Features of The Mask Network
One of the key features of Mask Network is its ability to provide users with more control over their personal data. Unlike traditional social media platforms, which collect and monetize user data, Mask Network does not store any personal information on its servers. This means that users are able to share and connect with others without the risk of their data being compromised or shared without their consent.
Another important feature of Mask Network is its support for decentralized storage solutions such as IPFS and Swarm. These solutions allow users to store their data on a decentralized network of computers, rather than on a centralized server. This makes it much more difficult for hackers to access or corrupt data, and also allows for faster and more efficient data retrieval.
The Mask Network also utilizes a token-based economic system to reward users for creating and sharing content on the platform. The MASK token, which is an ERC-20 token, is used as a medium of exchange and can be earned by creating and sharing content, as well as by participating in the governance of the platform. This creates an incentivization system that encourages users to actively engage and contribute to the platform.
The Mask Network Plugin
Mask Plugin is available for both Chrome, FireFox and Brave browsers. Using this plugin will allow The Mask's users to send encrypted posts to their friends, participate in cryptocurrency lucky-draws, and share encrypted files on the platforms you are already using. You can follow the instructions mentions on this link to setup the plugin.
The Mask Network Mobile App
The Mask Network is also available as a mobile app. At the time of writing, the current version of the app is 2.9.0. You will need to have either a Facebook or a Twitter account to use the app. The mobile app will create a cryptocurrency wallet, buy crypto using "Transak", buy tokens directly on twitter using the app built-in "ITO" and finally encrypts your browsing data.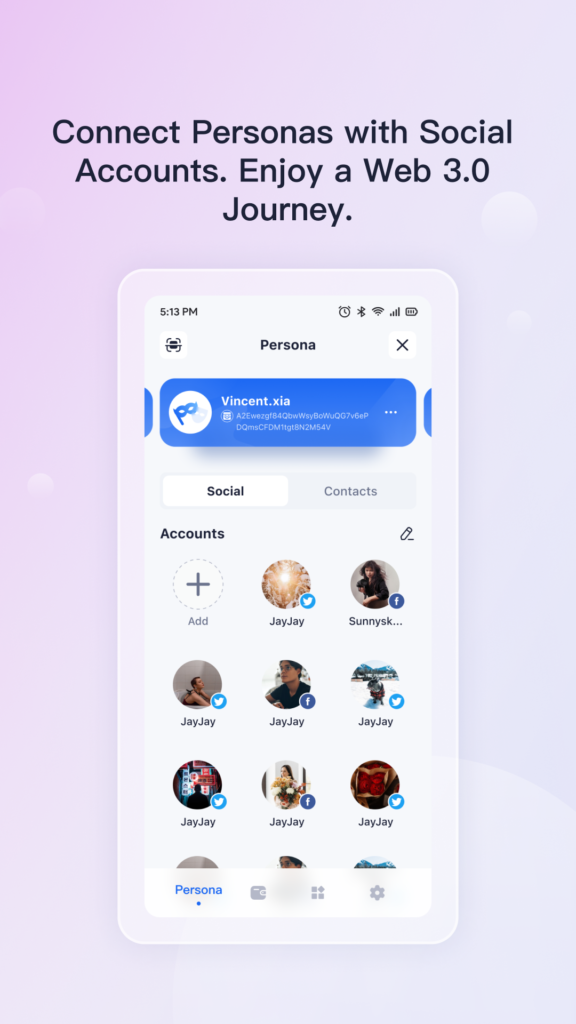 The Future Plans
Additionally, Mask Network is also working on developing a decentralized identity solution, which will allow users to have full control over their digital identity and online reputation. This will enable users to create multiple identities and use them in different contexts, providing them with more privacy and control over their online presence.
The Mask Network Price Chart
* Price chart is collected through Coinmarketcap
---
Conclusion
In conclusion, the Mask Network is a decentralized social media platform that aims to provide users with more privacy and freedom of expression online. It utilizes blockchain technology and decentralized storage solutions to provide a secure and decentralized experience for its users. The platform also has a token-based economic system that rewards users for creating and sharing content, and is working on developing a decentralized identity solution to give users more control over their digital identity.
Disclaimer
Disclaimer: The information provided in this article is solely the author's opinion and not investment advice – it is provided for educational purposes only. By using this, you agree that the information does not constitute any investment or financial instructions. Do conduct your own research and reach out to financial advisors before making any investment decisions.
Project Review: Pi Network, a New Scam Project in Town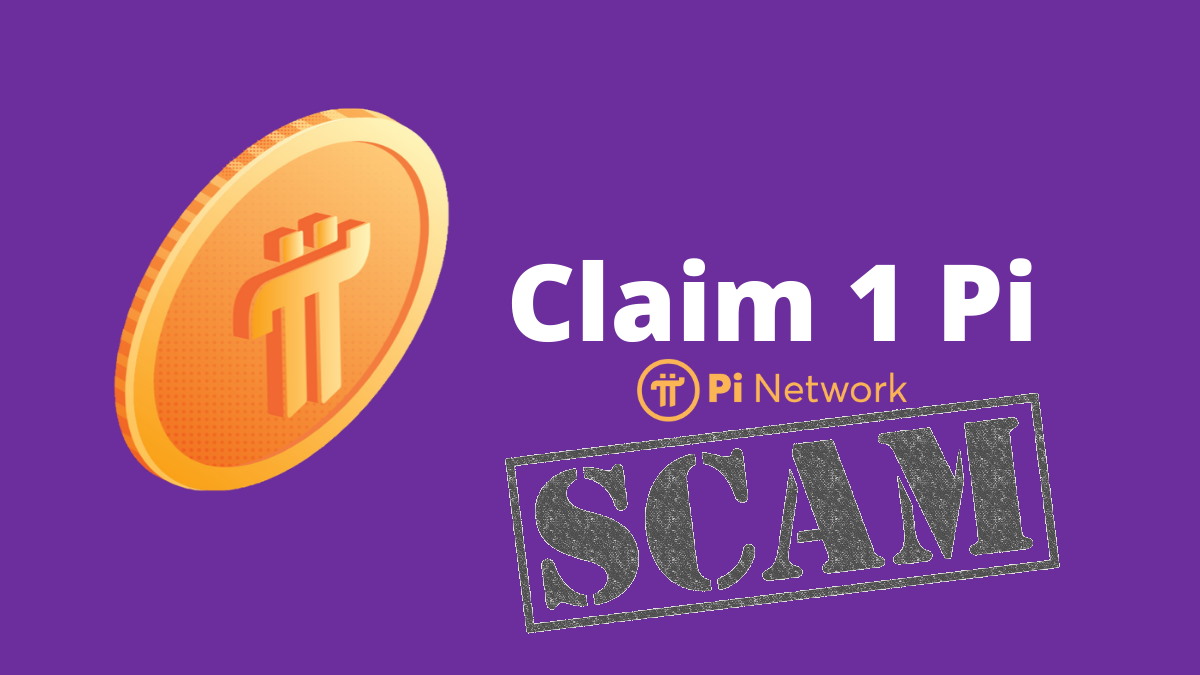 Lately, we have been receiving a lot of spamming referral links to join a new cryptocurrency project called "Pi Network". I have decided to give it a try and to check their official website and to install Pi Network App on an Android Emulator to test it out.
According to Pi Network official statement: Pi is a new digital currency. This app allows you to access and grow your Pi holdings and serves as wallet to host your digital assets. Pi is fairly distributed, eco-friendly and consumes minimal battery power.
At the time of writing, Pi Network has over 3.5+ million engaged pioneers (Mobile App miners), 28.5K followers on Twitter, 97K likes on Facebook and 128K followers on Instagram.
Pi Network's website is suspicious
On first impression, PI network's website looks poorly designed and contains some inaccurate technical information. They claim that PI network is "The First Digital Currency You Can Mine On Your Phone", and that is not true. Some older legit crypto projects such as uPlexa (UPX) and Electroneum (ETN) are using Mobile Apps to mine crypto coins.

When you're looking into digital cryptocurrency companies and startups, experts recommend that you confirm that they're blockchain-powered, which means they track detailed transaction data. in our case Pi Networks' website dose not contain a working Blockchain explorer link, no project announcements, no technical white paper and no links to a github page.
Statements like "Better than Bitcoin" and "The real Bitcoin" has been proven over and over again to be a classic scam and its sad that people still fall for it.
Pi Network's mobile App is also suspicious!
Pi Network's App on Google play has a lot of fake reviews and all written written by users who only does it to spam their referral links. Yet, the app is rated 4.9 stars and has more than one million active installs and over 43k reviews!.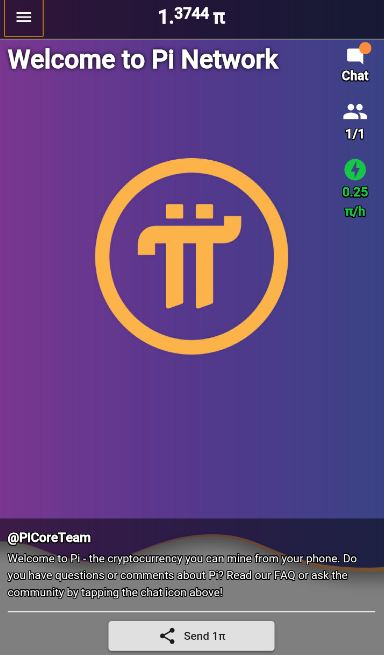 The App requires so many permissions
unlike any other crypto apps, the Android version of Pi Network app requires so many permissions. Installing Pi Network App on your phone will allow the app to access:
Device ID & call information:
read phone status and identity.
Storage & Photos/Media/Files:
read the contents of your USB storage
modify or delete the contents of your USB storage
Phone:
read phone status and identity.
Contacts:
read your contacts
Wi-Fi connection information:
view Wi-Fi connections
Other:
receive data from Internet
run at startup
full network access
prevent device from sleeping
draw over other apps
view network connections
control vibration
Draw over other apps is incredibly dangerous, the app can easily steal passwords. It can present messages as if they're from other apps or read those messages.
Invitation code is required in order to start using Pi Network App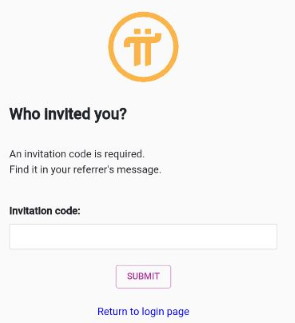 Once you install the app, you will not be able to use it without a valid invitation code. This is a live example of pyramid schemes and click baiting scam projects which are "viral social applications" that lure people with the promise of profit by recruiting more members so they can increase their mining power.
When you start the app, you will be "mining" at the rate of 0.25 Pi per hour. You will need invite a lot of your friends to increase your mining power/hashrate. The more people sign up using your affiliate code the more mining power you will get.
You need to activate the miner (app) every 24 hours. Pretty unproductive and inconvenient I would say, though you get a notification reminder to turn the miner on.
After testing it for 24 hours, i can say The Pi Network app is not a real crypto miner. Its just an airdrop app that gives you a tiny piece of a massive, but unknown amount Pi per-mined coins.
Pi Network App security issues
PI Network app is sending network packets to a third party domains "socialchain.app" and "rayjump.com", which is a weird behavior.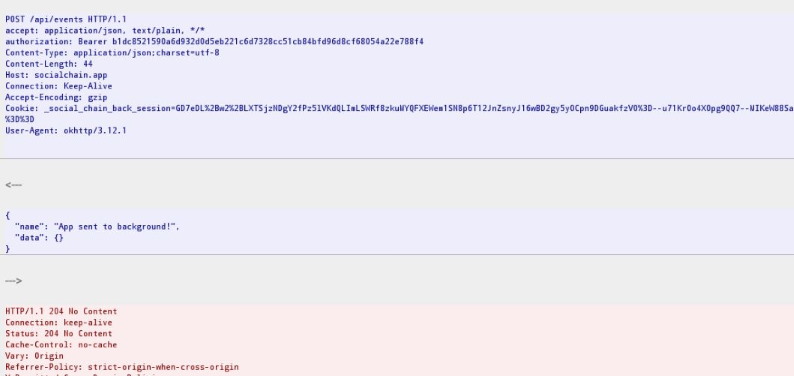 Quora user claims losing funds after using the App
Midas Tricone has claimed on a Quora post that he lost some funds from his banking account after installing and using Pi Network App

My final conclusion about PI Network
Pi Network is pyramid scheme scam project and has nothing to do with crypto mining. You must avoid it.
Project Review: Dmail Decentralized Blockchain Email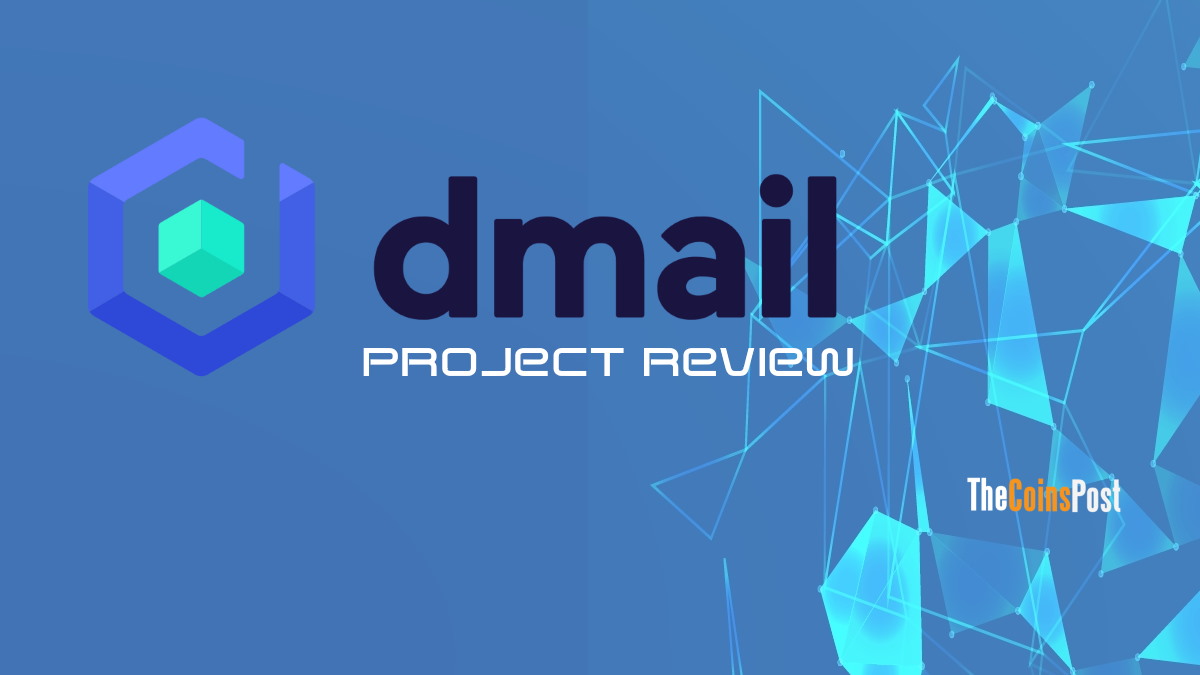 I came across an interesting blockchain project named Dmail. Dmail is an easy to use and a truly decentralized blockchain Email service that uses blockchain technology to encrypt, secure and revocable emails. Currently works only with Gmail through Google Chrome Browser.
Emails sent using Dmail will have a self destructive feature, where users can chose an expiration time of the sent emails. The timer begins as soon as the email is sent, and once the timer is up, the email gets deleted.
Dmail Technical Overview
Dmail uses Blockstack decentralized identities that can be linked to GitHub and social profiles, as well as cryptocurrency addresses, in a way that the user controls.
Dmail messages are encrypted. And, with Blockstack's storage system, only the DID holder has access to any related data.
Dmail is installed through a Google chrome extension that will encrypt your message locally on your computer. The encrypted body of the message is sent to Dmail's servers, while the decryption key and a link are sent to the intended recipients through Gmail. Neither Dmail nor Gmail gets both the encrypted message and the decryption key, so only the sender and intended recipients can read the message legibly.
Dmail's FAQ.
How To Use Dmail in Five Easy Steps
1- In order to use Dmail, you will need to use Google Chrome Browser and to install Dmail extension. At the time of writing, there are around 19k active users using Dmail with tons positive reviews.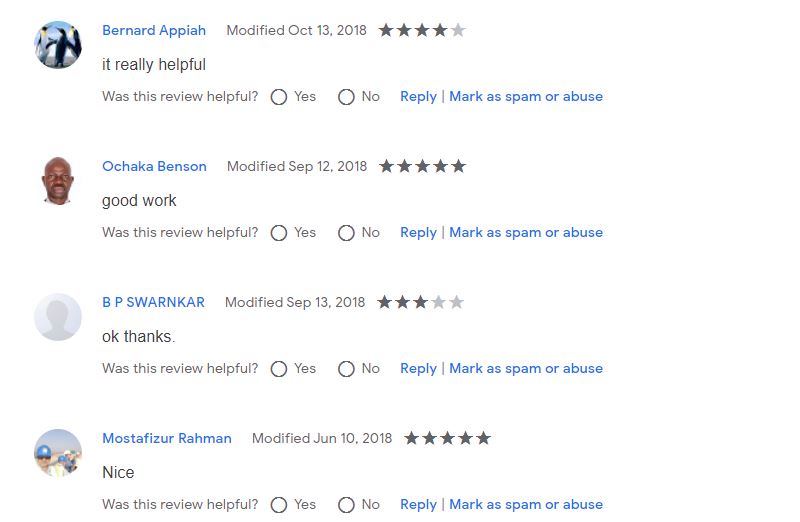 ---
2- Once the extension is installed, a small Dmail icon will appear on the Chrome browser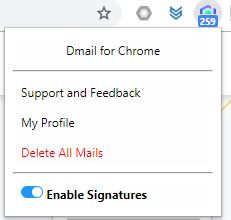 ---
3- You are almost done. Everytime you compose/write a new email through gmail, you will get the screen bellow where you can chose to encrypt your email through Dmail's service and for how long the sent email will be active before getting deleted.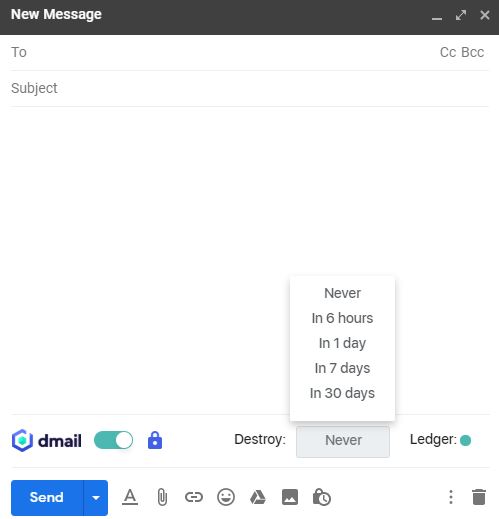 ---
4- The email recipient will receive an email like bellow. In order for him to view the received email, the recipient will need to click the attached link to open the email in a separate window.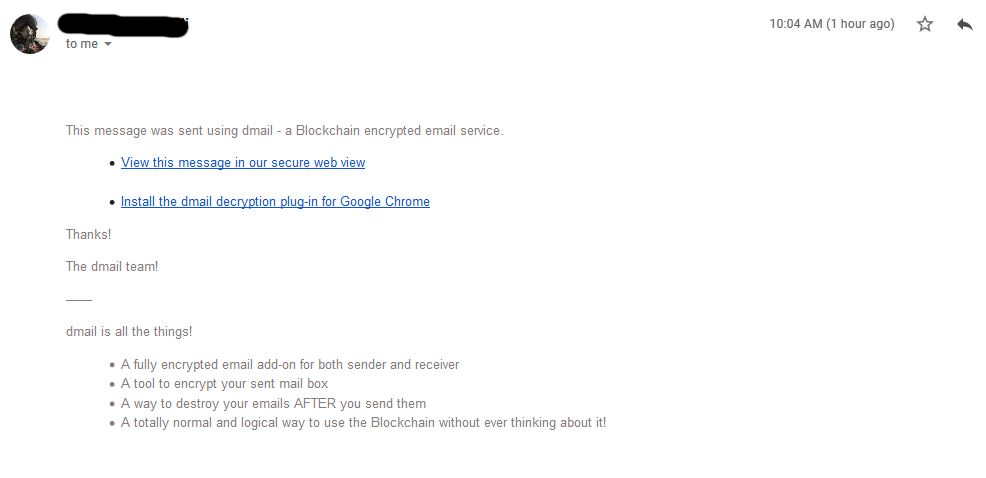 ---
5- The sender will always have the ability to Revoke and to Delete the sent emails. You can do so by opening the sent items tab on chrome, and open and email sent through Dmail.

Clicking Delete, will permanently delete the sent emails.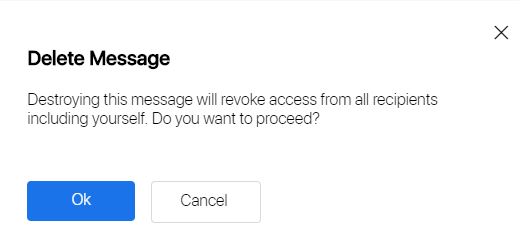 ---
And that's it!. If you enjoy our reviews, don't forget to follow us on our social media platforms.