Nano is Listed on Kraken Exchange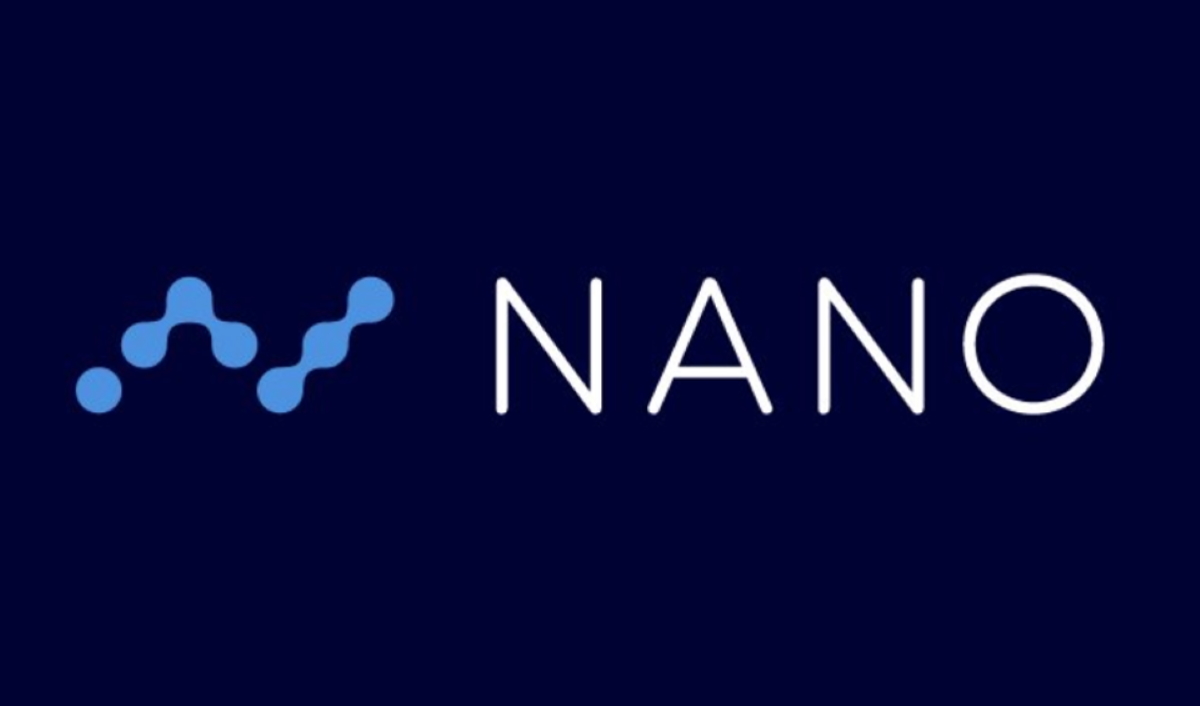 The US-based cryptocurrency exchange has listed Nano (NANO) coin on its platform. Nano trading went live on November 6, 2019, at 13:30 UTC.
NANO had a decent 11% price spike after the listing news. Yet it seems that some whale traders have decided to take profit and dump the coin.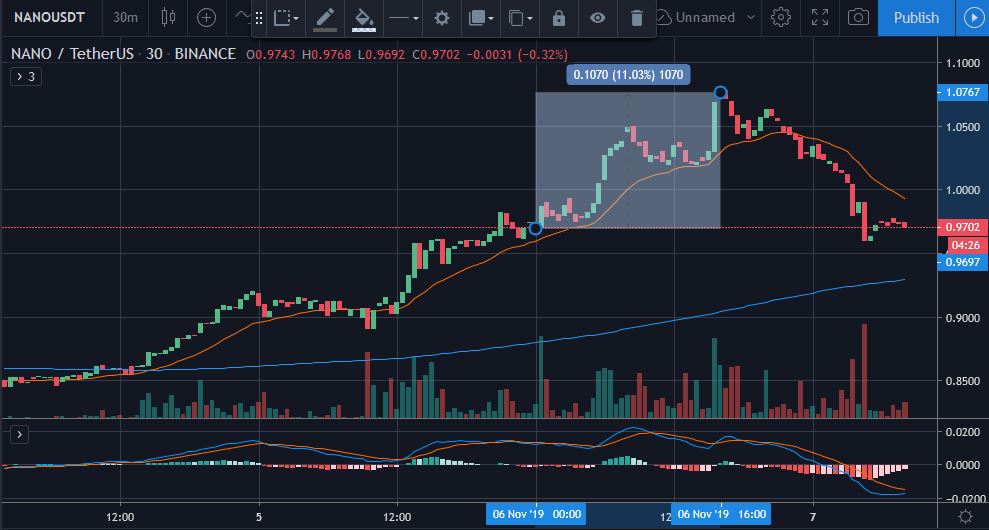 Nano is a very simple but effective protocol, it has seen a massive influx in user-created apps and POS implementations. It doesn't rely on expensive mining operations or reward mechanisms or trust quorums or consensus algorithms of flawed human design.
What is NANO cryptocurrency?
Initially named Raiblocks, NANO is an open-source blockchain project that was created by Colin LeMahieu in 2015. NANO is the only cryptocurrency that support the "block-lattice architecture" instead of the traditional singular blockchain. In Block Lattice, each user is assigned their own blockchain, which is called account-chain.
NANO USD Price Chart
What is Kraken Exchange?

Kraken cryptocurrency exchange was founded by Jesse Powell in 2011 and it's considered one of the largest and oldest Bitcoin exchanges in the world. Kraken also ranks as a top-four exchange in its order book depth, the liquidity it provides and total traded volume.
*Charts are provided by cryptocompare.com
Video: SWELL 2019 Moneygram and Ripple full panel
MoneyGram CEO Alex Holmes in conversation with Ripple CEO Brad Garlinghouse as they discuss an exiting development in the financial blockchain technology space.
Swell conference, was a two days event organized by Ripple in Singapore on November 6-7.
During the event, Ripple said it has surpassed 300 customers, which consists of a "global network of banks, financial institutions and payment providers that sends money globally, instantly and reliably for fractions of a penny." Indeed, a blog post elaborated that Ripple has customers "in more than 45 countries and 6 continents using RippleNet, with payout capabilities in 70+ countries."
PIRL Releases PirlChat, a New Blockchain-Based Messaging App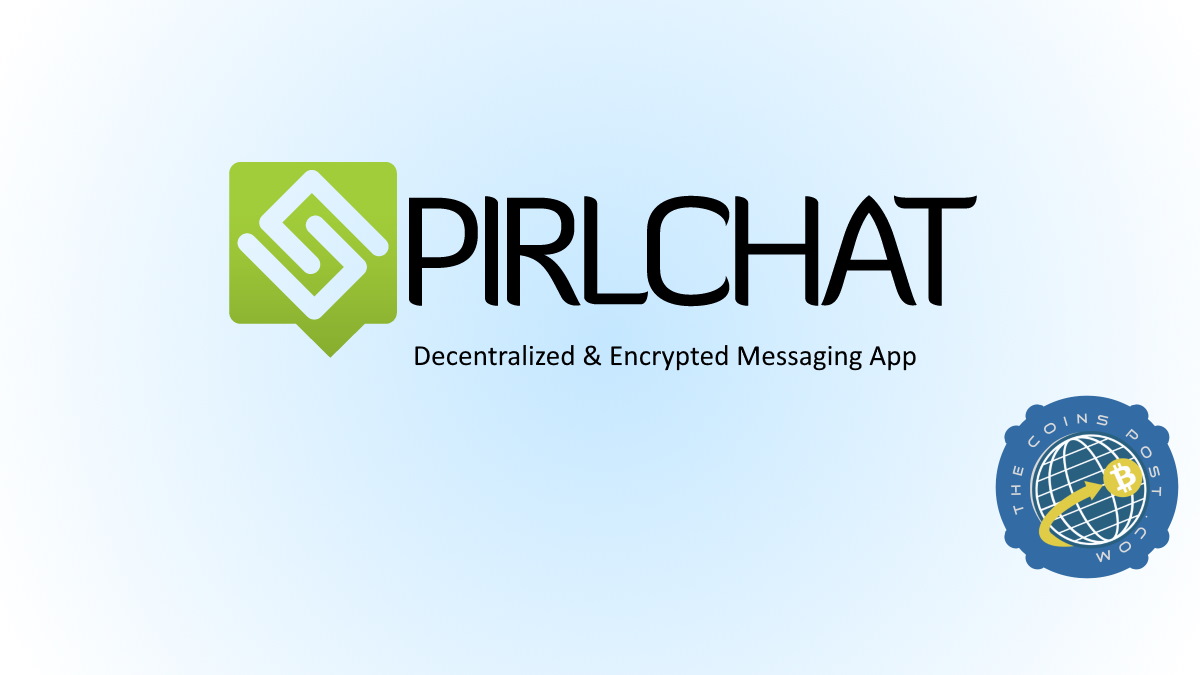 PIRL blockchain has just released PirlChat, a new decentralized and encrypted messaging App. PirlChat is currently available only to Android smartphone users. The new app can be downloaded from Google Play.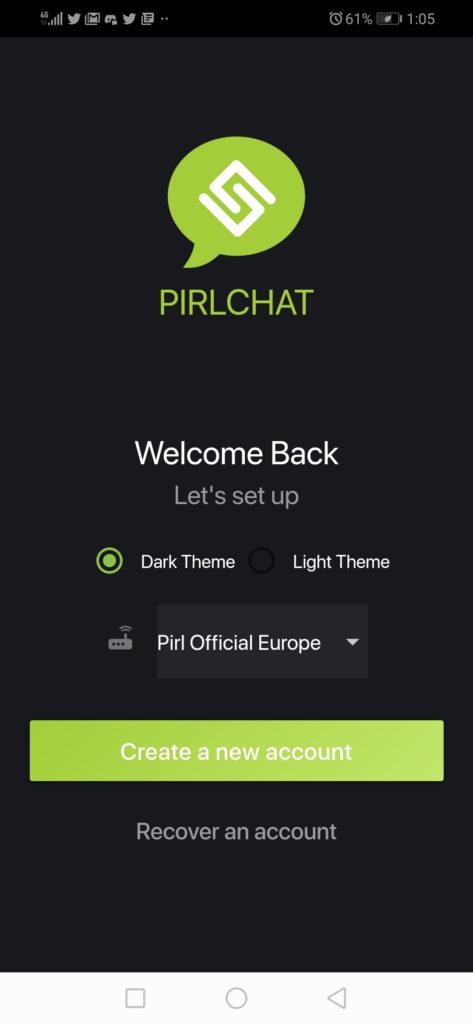 PIRL developers say, no email or phone number would be required to use PirlChat. No intrusion in contact list, end to end encrypted. No central server. So PirlChat is completely decentralized and anonymous –I would assume-.
What is PIRL?
PIRL is an Ethereum based blockchain that introduced the first Ethash Based Masternode to the blockchain ecosystem. PIRL coin used to be mine-able through EthMiners but PIRL has switched from POW (Proof Of Work) to POS (Proof Of Stake) and became a 3-layered Masternode network blockchain.
Masternodes on PIRL network secure the network, enhance stability and service unique functionalities. PIRL Masternodes provide various services to complete the network infrastructure by providing 3 services – Security, Immutable Content and Decentralized Storage.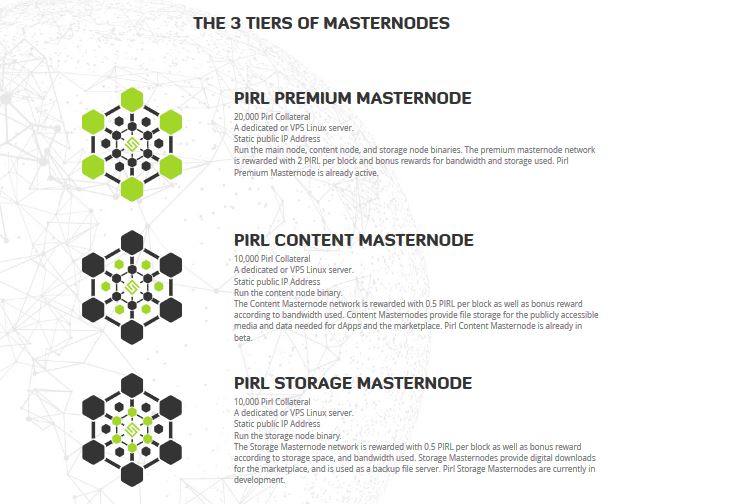 PIRL USD price chart for the last Three Months:
*Charts are provided by cryptocompare.com
ARK Coin Has been Listed on Bilaxy Exchange And Added to Abra App
ARK coin has been added to Abra, the all-in-one cryptocurrency wallet and exchange mobile App, and is available to both Android and iOS smartphone users. Abra currently supports 200 cryptocurrencies for its international customers, 96 cryptocurrencies for its US based users and over 50 fiat currencies.
Abra was founded back in 2014 by Bill Barhydt and Pete Kelly, and had raised $35.5M in funding.
---
Bilaxy Exchange Listing
Bilaxy, the international blockchain asset exchange has announced the listing of ARK coin. ARK is available in BTC trading pair.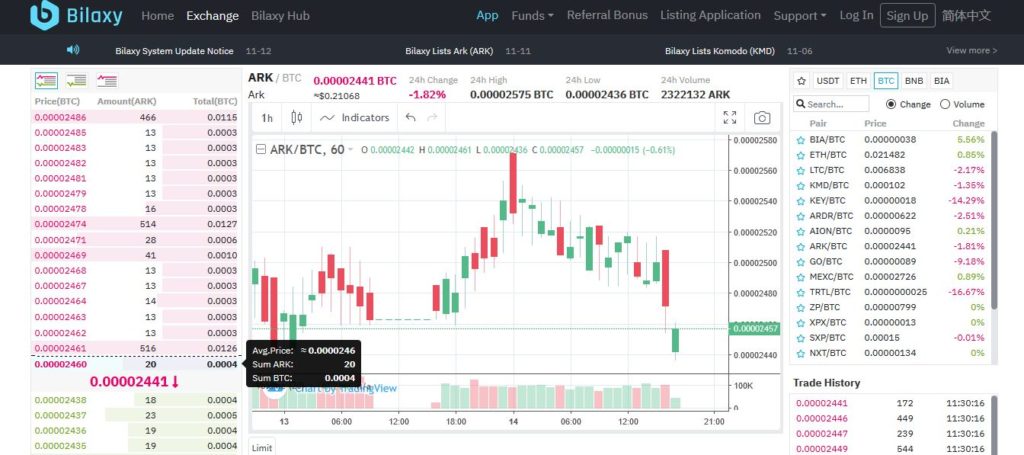 Bilaxy exchange was launched on Apr 2018. The exchange is available in English and Chinese. At the time of writing the, the daily trading volume is $790,459,376.
What is ARK Coin?
ARK coin is a native cryptocurrency of the ARK blockchain platform. ARK coin was created to enable different developers to be able to use the coin to pay for the hosting of their created Dapps on the ARK blockchain platform.
ARK aims to become a global backbone of decentralized application-centric blockchains, which are called bridgechains, which will allow them to either work with each other or stay isolated in their own environment. For more information about ARK project, please check ARK's official whitepaper.
ARK USD price chart for the last 7 days:
*Charts are provided by cryptocompare.com