MyDashWallet Was Compromised For Two Months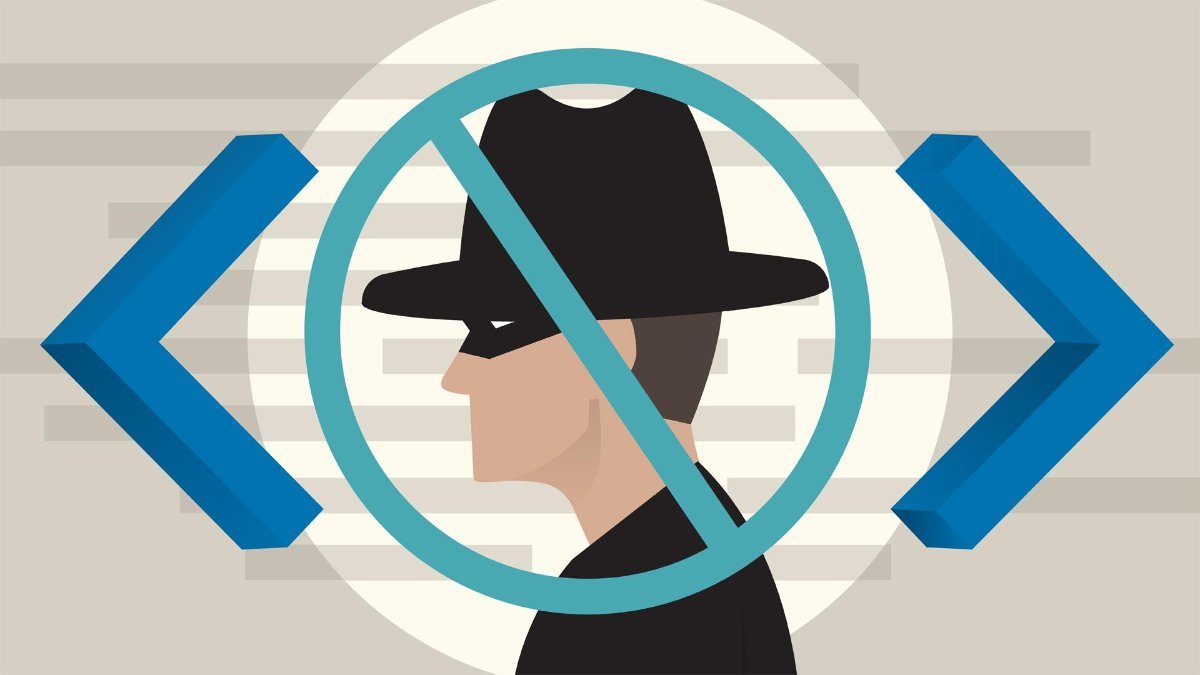 MyDashWallet.com was hacked between May 13th-July 12th. MyDashWallet was modified to load an external script from the script from external servers, which leaked private keys of MyDashWallet's users.
The hacker(s) was able to obtain all users' private keys that were used between May 13th and July 12th. The hack itself was only active for two months before being detected. The insecure coding practice implemented by MyDashWallet went undetected for over a year due to insufficient review of code by third parties.
Anyone using MyDashWallet.com during that time should assume their private keys are known by the hacker and immediately move balances out of that wallet. As some users have reported stolen crypto from their wallets. Keep your crypto safe.
$50 Million in Cryptocurrency May Have Been Stolen From Upbit Exchange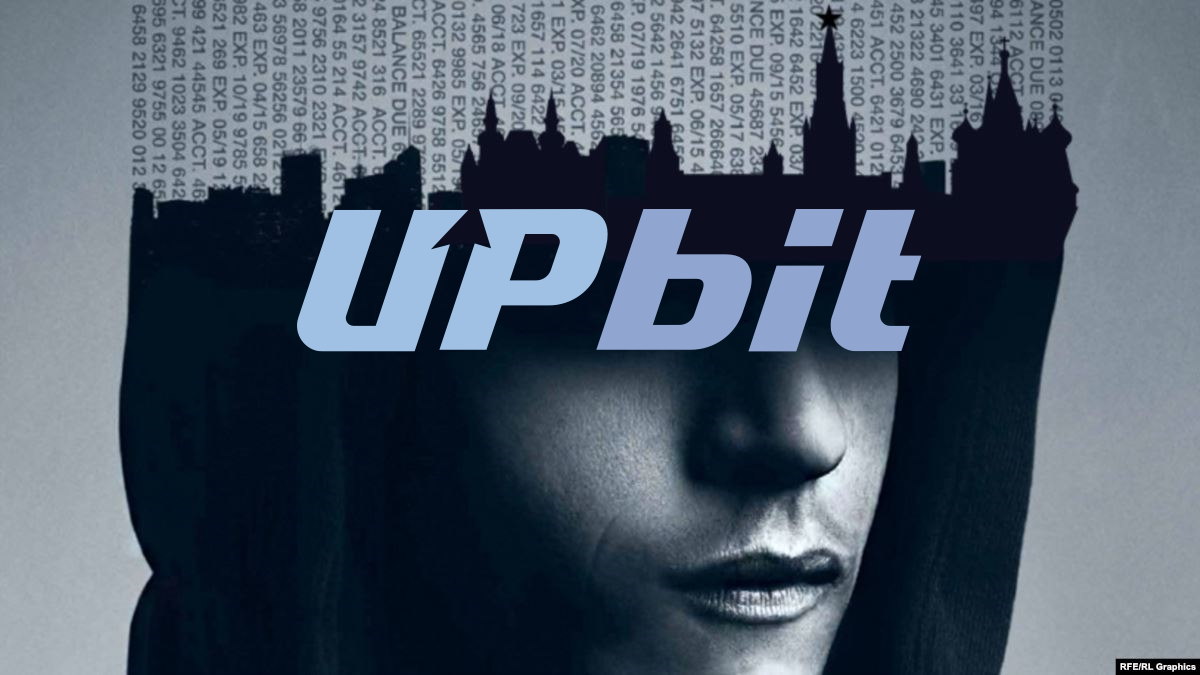 Multiple sources have claimed Upbit, the largest cryptocurrency exchange in South Korean, may have been hacked after 342,000 Ethereum ($50 Million) coins transferred out of the exchange's wallets to unknown wallet. The exchange platform went into unscheduled maintenance right after the transfer.
Cryptocurrency monitoring service "Whale Alert" has recorded the following transaction:
🚨 🚨 🚨 🚨 342,000 #ETH (49,848,273 USD) transferred from #Upbit to unknown wallet

Tx: https://t.co/HairAS3gee

— Whale Alert (@whale_alert) November 27, 2019
The above ETH transaction might indeed be a hack: the TX was sent with a gas fee of 1000 gwei (100x the price for a "fast" transaction). This person wanted to be 1000% sure the TX goes through ASAP. No exchange ever sends a TX with this fee.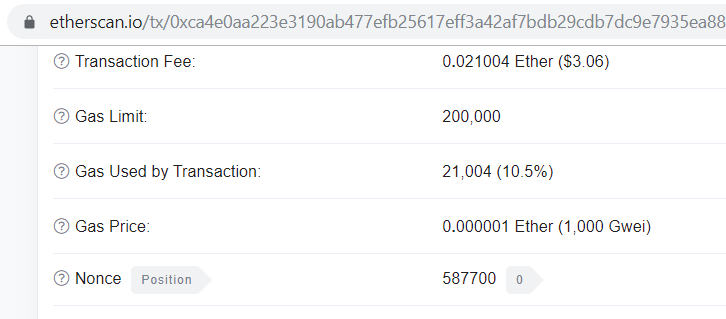 The exchange have posted the bellow notice on its website:
This is a developing story, we will keep you updated about this alleged security breach.
Xera Cryptocurrency Exchange Hacked, Users Data Are Being Sold Online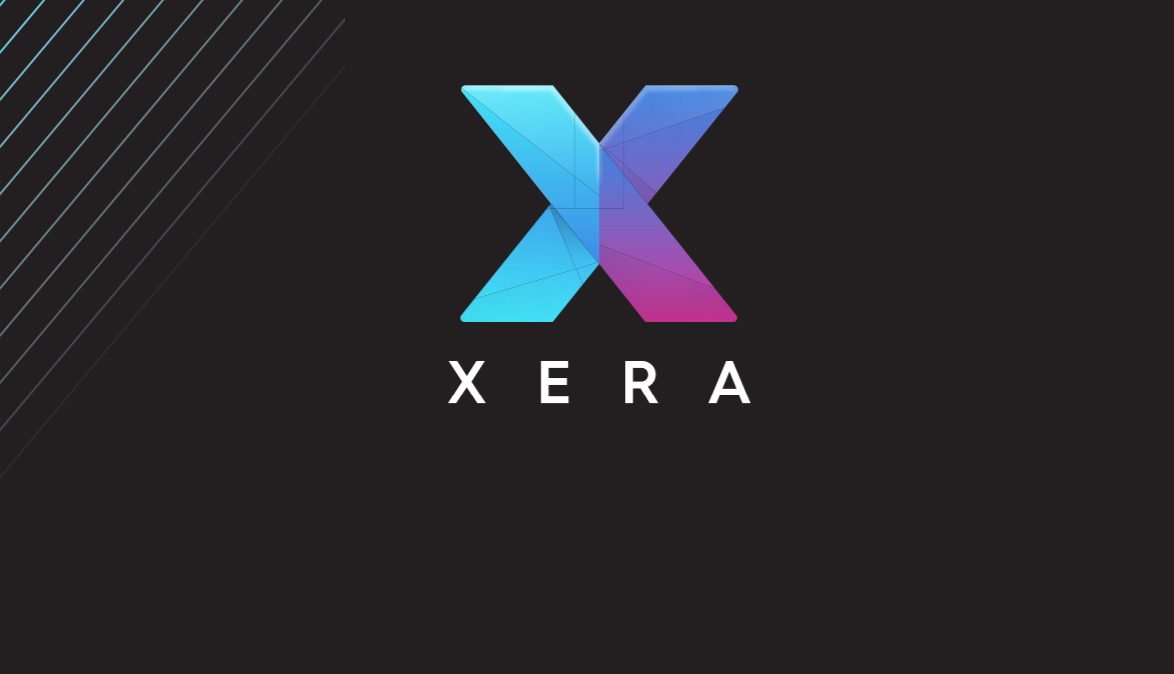 It seems that Xera cryptocurrency exchange's user accounts have been stolen by hackers and put up for sale on the dark web. The hacked data includes KYC documents, usernames, email addresses, passwords and users crypto wallets. The leaked data is being sold on the dark web for around $300 USD.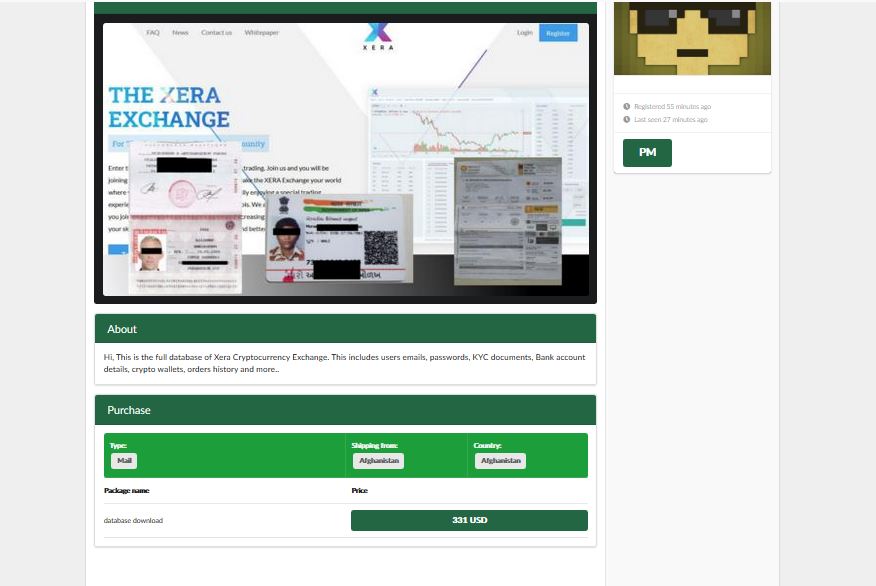 The unknown hacker is selling Xera's leaked data on Toshka Market, an underground marketplace that sells illegal items on the dark web. The item listing can be accessed using TOR browser and can be found at:
http://tochka3evlj3sxdv.onion/store/hackednet/item/09f3c081c3954621405324ea49a0cc21/
From what the hacker posted, we can tell that the leaked data includes Russian, European and Indians passports and IDs.
---
Xera exchange cryptocurrency exchange that was launched on Dec,2018. Xera exchnage has it's own ERC20 token (XERA) that was offered as an ICO (initial Coin Offering).
Monero Got Hacked?: XMR Core Team Issues Security Warning
Monero (XMR) core team posted a security warning on Reddit stating that GetMonero.org, one of Monero's main websites may have been compromised at some point during the last 24h and argues users to check integrity of the files that were downloaded recently from GetMonero.org.
XMR team discovered the alleged security breach after some users noticed the hash of the binaries they downloaded from GetMonero did not match the expected one. Another Monero user has reported a similar issue on Moenro's official GitHub.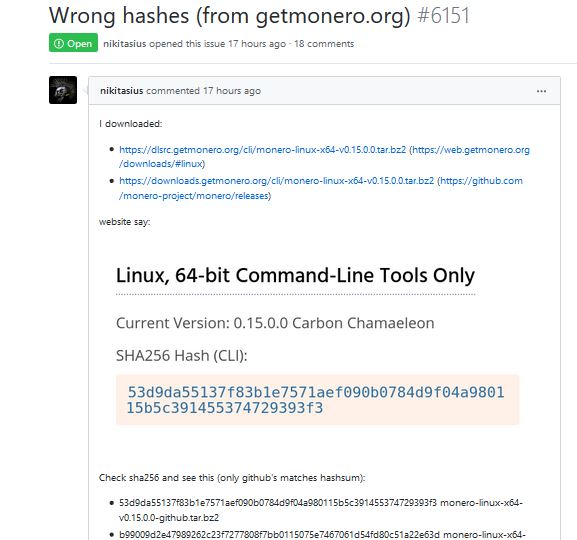 Monero Core Team will be publishing more information about this security incident, we will keep you updated.
What is Moenro (XMR)
Monero is the leading open-source cryptocurrency that was launched in April 2014, and focuses on privacy and decentralization. Monero uses an obfuscated public ledger, meaning anybody can broadcast or send transactions, but no outside observer can tell the source, amount or destination.
Every Monero transaction, by default, obfuscates sending and receiving addresses as well as transacted amounts. This always-on privacy means that every Monero user's activity enhances the privacy of all other users, unlike selectively transparent cryptocurrencies (e.g. Zcash).
Monero XMR USD Price Chart
*Charts data was provided by CryptoCompare