N.Korea Denies it Amassed $2 BLN Through Cyberattacks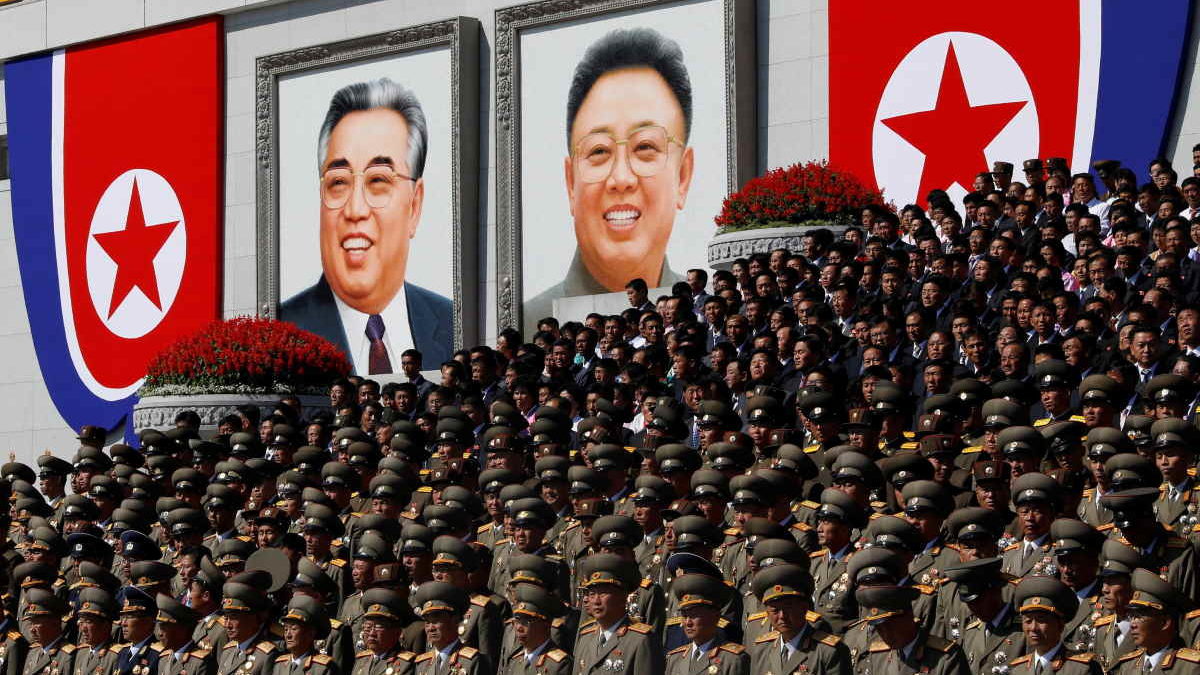 SEOUL (Reuters) – North Korea denied on Sunday allegations that it had obtained $2 billion through cyberattacks on banks and cryptocurrency exchanges, and accused the United States for spreading rumors.
A United Nations report seen by Reuters last month said North Korea had used "widespread and increasingly sophisticated" cyberattacks to steal from banks and cryptocurrency exchanges, amassing $2 billion which it used to fund weapons of mass destruction programs.
"The United States and other hostile forces are now spreading ill-hearted rumors," North Korea's state-run KCNA news agency reported, citing a statement from the spokesperson for the National Coordination Committee of the DPRK for Anti-Money Laundering and Countering the Financing of Terrorism.
"Such a fabrication by the hostile forces is nothing but a sort of a nasty game aimed at tarnishing the image of our Republic and finding justification for sanctions and pressure campaign against the DPRK," the statement said.
Washington has made scant progress toward its goal of getting North Korea to give up its nuclear weapons program, despite three meetings between U.S. President Donald Trump and North Korean leader Kim Jong Un.
North Korea's vice foreign minister said on Saturday that hopes for talks with Washington were fading, and criticized Mike Pompeo's recent comments about "North Korea's rogue behavior".
Pyongyang has been blamed in recent years for a series of online attacks, mostly on financial networks, in the United States, South Korea and over a dozen other countries, as experts say such cyber activities generate hard currency for the regime.
The crux of the allegations against North Korea is its connection to a hacking group called Lazarus that is linked to $81 million cyber heist at the Bangladesh central bank in 2016 and a 2014 attack on Sony's Hollywood studio.
(Reporting by Ju-min Park; Editing by Raissa Kasolowsky)
Copyright 2019 Thomson Reuters.
Bitcoin Worth $1.2M Seized From Arrested Indian Hacker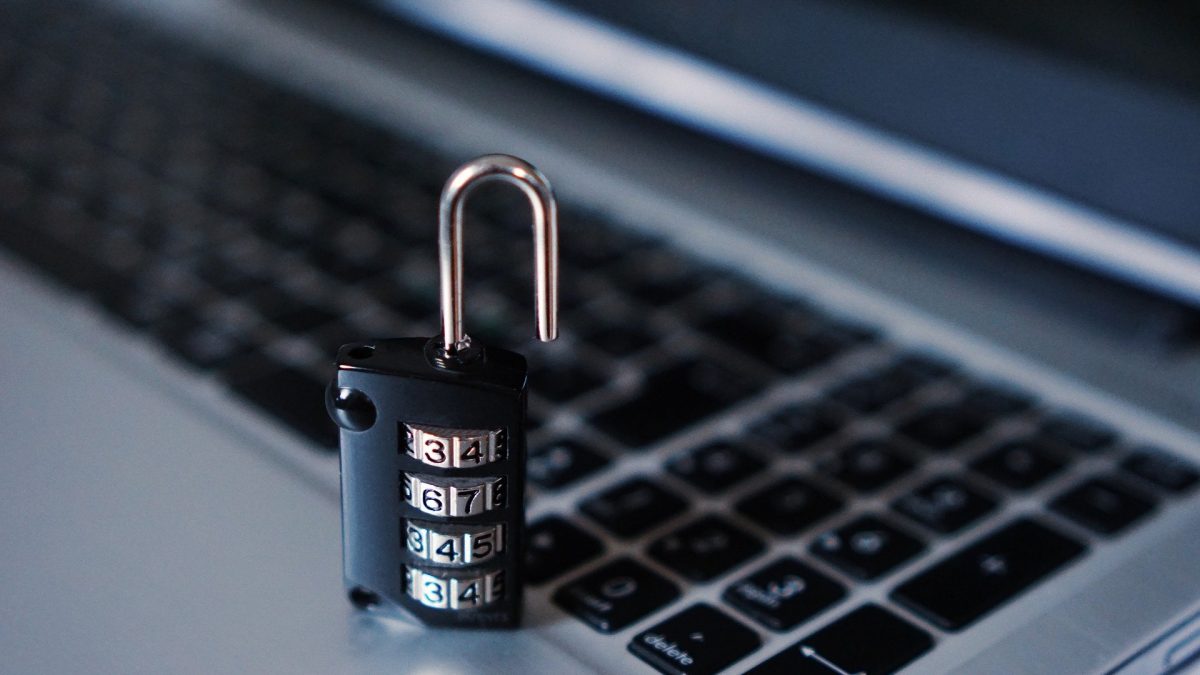 Indian authorities seized bitcoin worth around 90 million Indian rupees ($1.2 million) following the arrest of a 25-year-old Indian computer hacker in Bengaluru, India. Bengaluru Joint Commissioner of Police (Crime) Sandeep Patil informed media about the development on Friday.
Srikrishna alias Shreeki, the hacker, was arrested on Nov. 18 for the alleged hacking of government portals, three bitcoin exchanges and 10 poker sites, using malware in four of the attacks.
During the investigation, it was found that the Srikrishna had hacked three Bitcoin exchanges and 10 poker sites. The Bengaluru police commissioner said that Bitcoins worth Rs 9 crore have been seized in the matter.
Srikrishna confessed to hacking the e-procurement website of the Karnataka government as far back as 2019, said the report citing the ANI news agency.
KuCoin Exchange Loses US $5.6 Million in a Hack Attack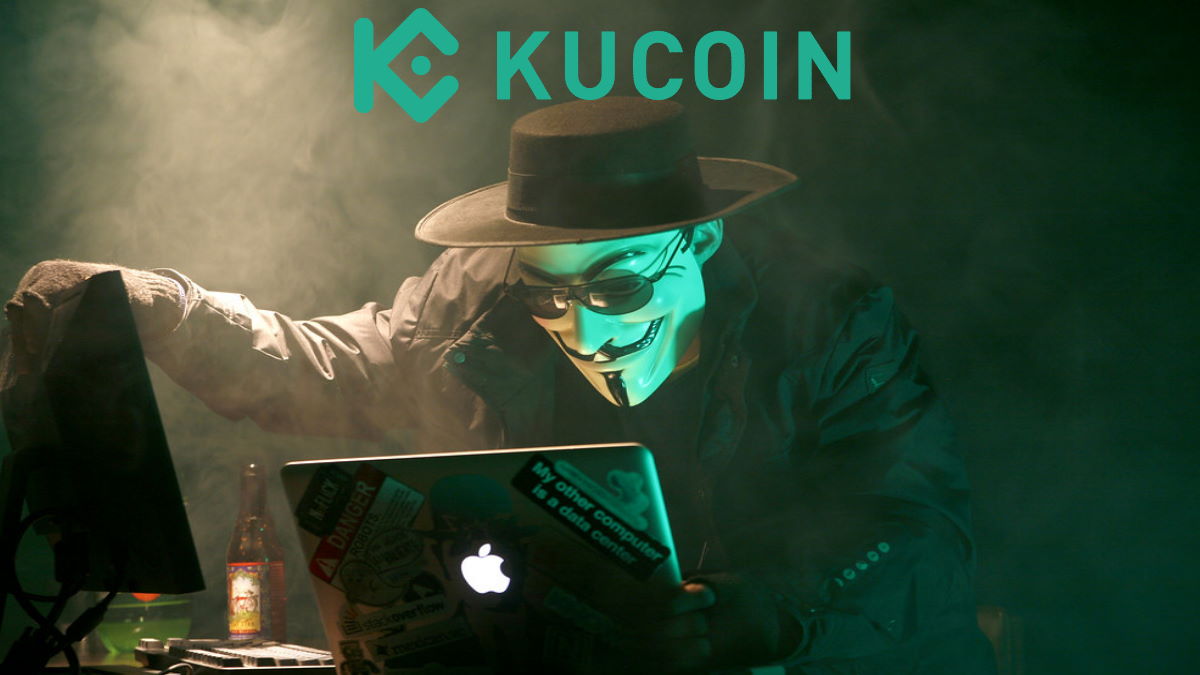 KuCoin , the cryptocurrency exchange has announced that it has suffered a security breach which saw malicious hackers access its hot wallet and steal funds worth around US $5.6 million.
According to the official Twitter account of KuCoin, the exchange staff detected some large withdrawals since Sep 26 at 03:05 UTC+8. Some BTC, ERC-20 and other tokens in KuCoin's hot wallets were transferred out of the exchange, which contained few parts of our total assets holdings.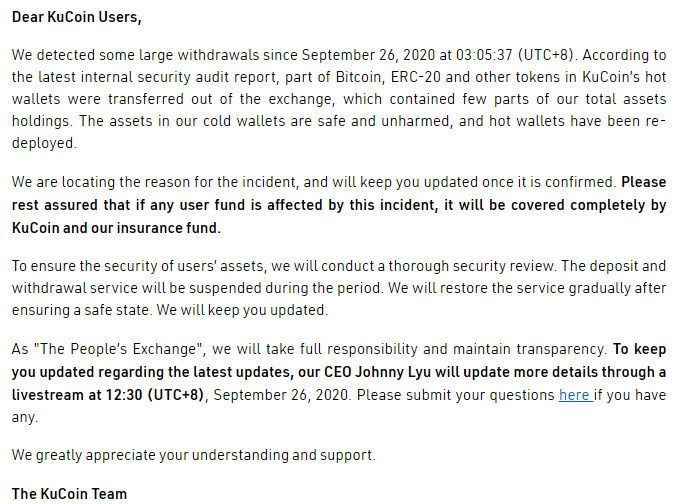 KuCoin has not announced the exact value of the stolen funds, but according to blockchain tracker and analytics system, Whale Alert, around US $5.6 million worth of coins were transferred out of KuCoin's Wallets.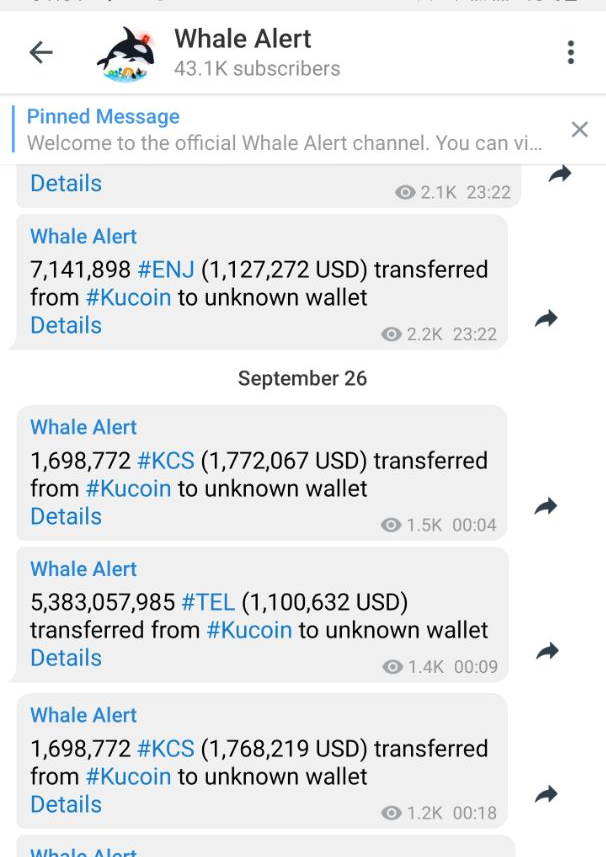 Kucoin's users on Telegram are reporting being blocked on withdraws.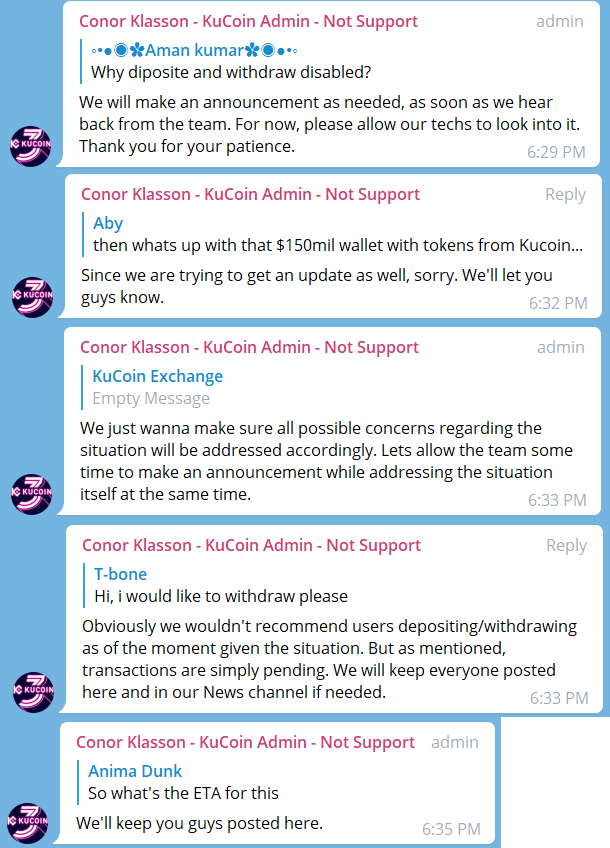 Kucoin's official coin "KCS" price dropped 10%-15%, following hacking news.
KuCoin is a Hong Kong based cryptocurrency exchange. Launched in September 2017, KuCoin has grown into one of the most popular crypto exchanges and already has over 5 million registered users from 200+ countries and regions. According to Alexa traffic ranking, KuCoin's monthly unique visit ranks the top 5 globally.
Bitcoin User Losses $16.2 Million in BTC After Using an Old Electrum Wallet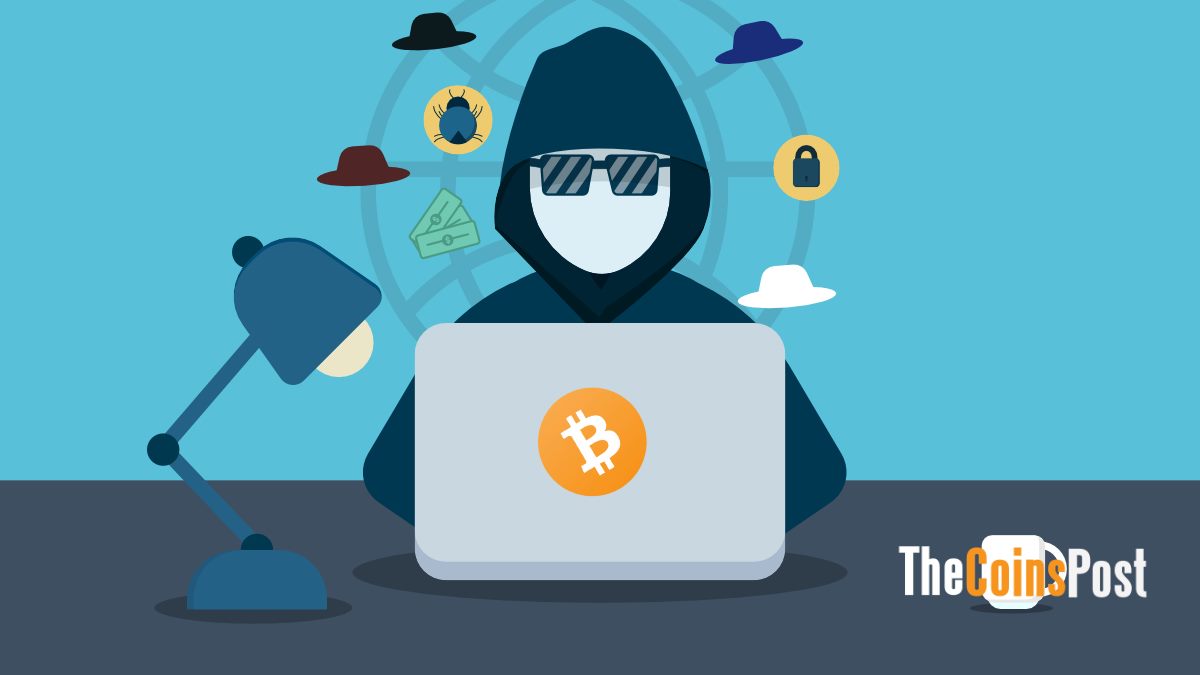 An anonymous Bitcoin user is claiming to have lost $16,000,000 (1400 Bitcoins) due to installing an old Electrum wallet version that is running malicious servers.
The user created an issue and explained what happened on the official Electrum's github page.
It seems the victim was using an infected version of Electrum wallet that asked him to install some sort of malicious updates that triggered the transfer of hist entire Bitcoin balance to a scammers address.
According to bitcoin blockchain the transfer of the stolen funds happened yesterday.

Electrum is a light client, which means it must connect to the blockchain through a server, which by default is chosen from a list of public Electrum servers. Anyone can operate such a public server and some users will be randomly connected to it.
When broadcasting a transaction on Electrum, it gets sent to the Electrum Server you are connected to for propagation to the network. The server should try to add the transaction to its mempool and further propagate it to other Bitcoin nodes.
it seems the attackers have set up a public Electrum Server targeting the old wallets' users, which was tweaked so that instead of propagating the user's transaction as it should, it always returns a malicious error message directing the Electrum clients to a phishing website to "upgrade" their Electrum version.
The only way to keep your Bitcoin and other digital currencies safe is to either use an offline wallet or a trusted hardware wallet.