Tradesatoshi Cryptocurrency Exchange to Shut Down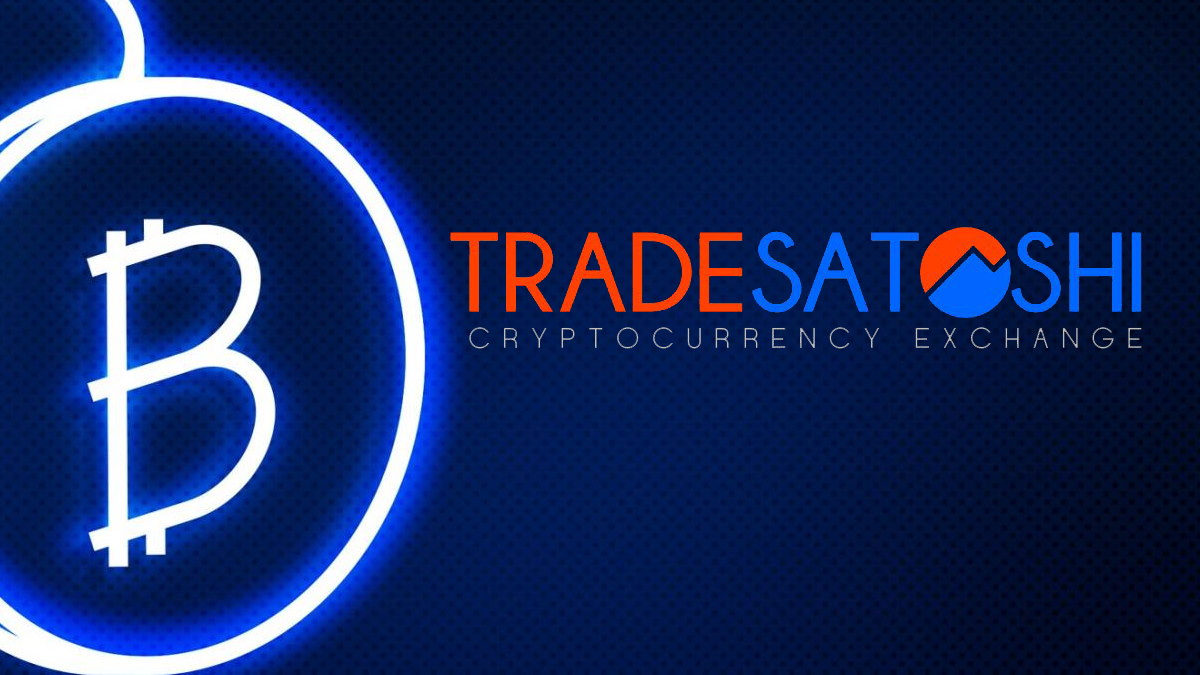 UK based cryptocurrency exchange "TradeSatoshi" has made an announcement stating that the platform is closing down by March 1st. The exchange has been operating since 2015.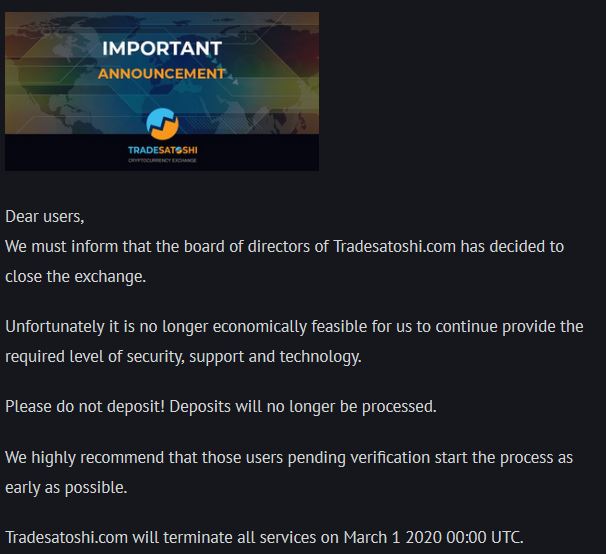 According to TradeSatoshi's announcement, the reason for shutting down is that the exchange is not able to satisfy the customers' needs when it comes to the security of the funds and other related issues.
The exchange also warned the users not to make any new deposits. Tradesatoshi won't process any such deposits. Tradesatoshi has also requested it's users who haven't completed their KYC (Know your Customer) verification process till now to complete it immediately in order to withdraw their funds.
Some users have reported that the AML/KYC process might take as long as two months to complete, and that compliance is impossible before the deadline. Some have reported that they're unable to withdraw funds even after meeting the additional AML/KYC requirements.
While some other users have reported that they're unable to withdraw funds despite the fact that ave already completed the KYC process.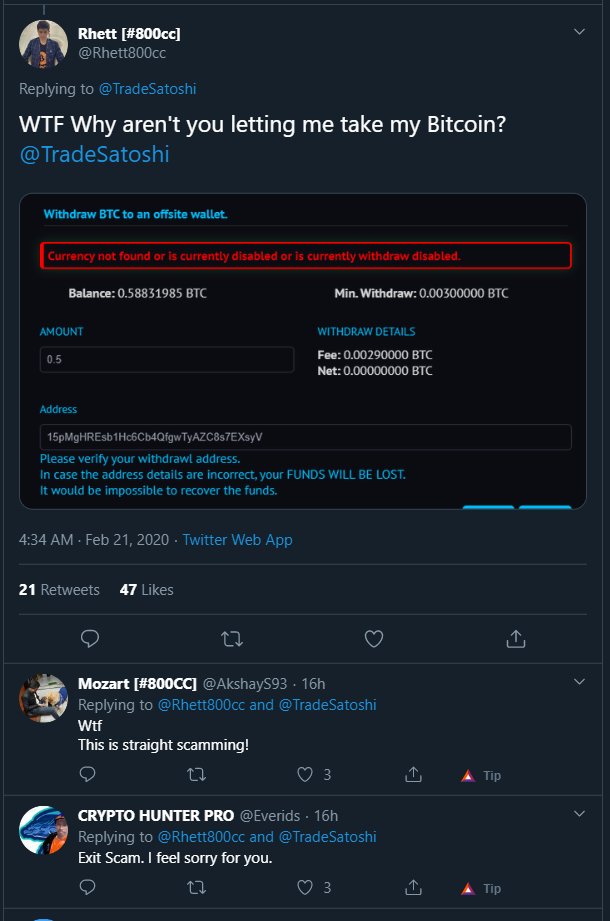 Trade Satoshi was launched in late 2015 and it is headquartered in London, UK. According to CoinGecko, the exchange 24 hours trading volume is 12.98 BTC ($153,212). Trade Satoshi currently support exchange supports 150 cryptocurrencies and 506 market trading pairs.
The exchange became popular because of the lower trading limits, low listing fees and it's friendly chat box where you can live chat to other traders from all over the world.
Graviex Exchange Adds ARK Coin
Cryptocurrency exchange Graviex announced that it just added Ark (ARK) to its platform starting Saturday, June 6th.
As of writing these lines, ARK wallets are now open for deposits, and users can trade ARK/BTC, ARK/ETH and ARK/USDT.
What is ARK coin?
ARK is an all-in-one blockchain solution that focuses on the interconnectedness of blockchains. Currently, Bitcoin and Ethereum are unable to transact with each other. The Ark team plans to change this through the use of Encoded Listeners and smartbridges. Ark is not just a cryptocurrency; it is an ecosystem intended to catalyze the mass adoption of cryptocurrency.
ARK uses what is called a Delegated-Proof-of-Stake (DPoS) consensus mechanism that is made up of 51 delegates. The delegates, located all over the world, are supposed to run the ARK network and are rewarded with block rewards for doing so. Holders of ARK are able to allocate their coins and vote to any delegate of their choosing via a wallet. The delegate would then share their reward with those who voted for them. The more ARK coins you hold the more rewards you will receive.
ARK/USD price
ARK's Official Links:
Website: ark.io
Twitter: @ArkEcosystem
Reddit: https://reddit.ark.io/
STEX Exchange Adds Indian Rupee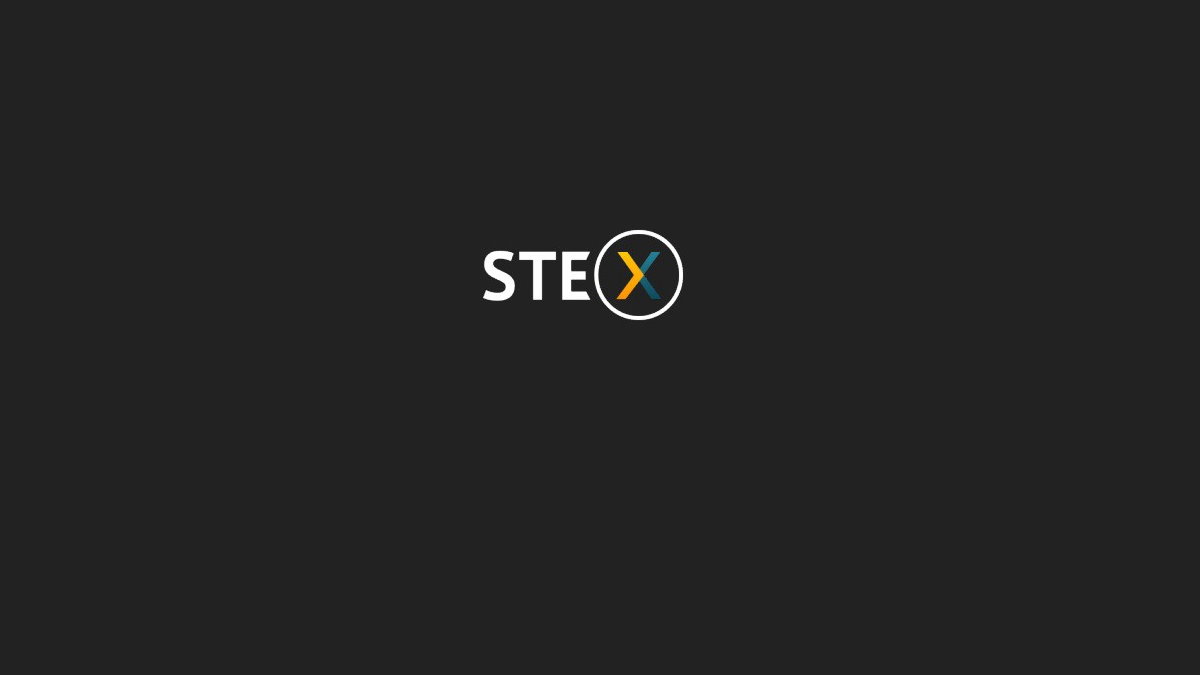 The Estonian cryptocurrency exchange, STEX, has added support to Indian Rupee payments within its platform. Users will be able to perchance cryptocurrency for INR – Indian Rupee with using VISA or Mastercard.
STEX exchange is a centralized cryptocurrency exchange that was founded by Vadym Kurylovych and launched in September 2017. The exchange located in Tallinn, Estonia. The exchange It supports crypto-to-crypto and fiat-to-crypto trading with no withdrawal limits.
Estonia is also one of the few countries that have a specific license issued for cryptocurrency exchanges, with simple company setup procedures and favorable taxation.
ARK Price Jumps 48% After Binance's Announcement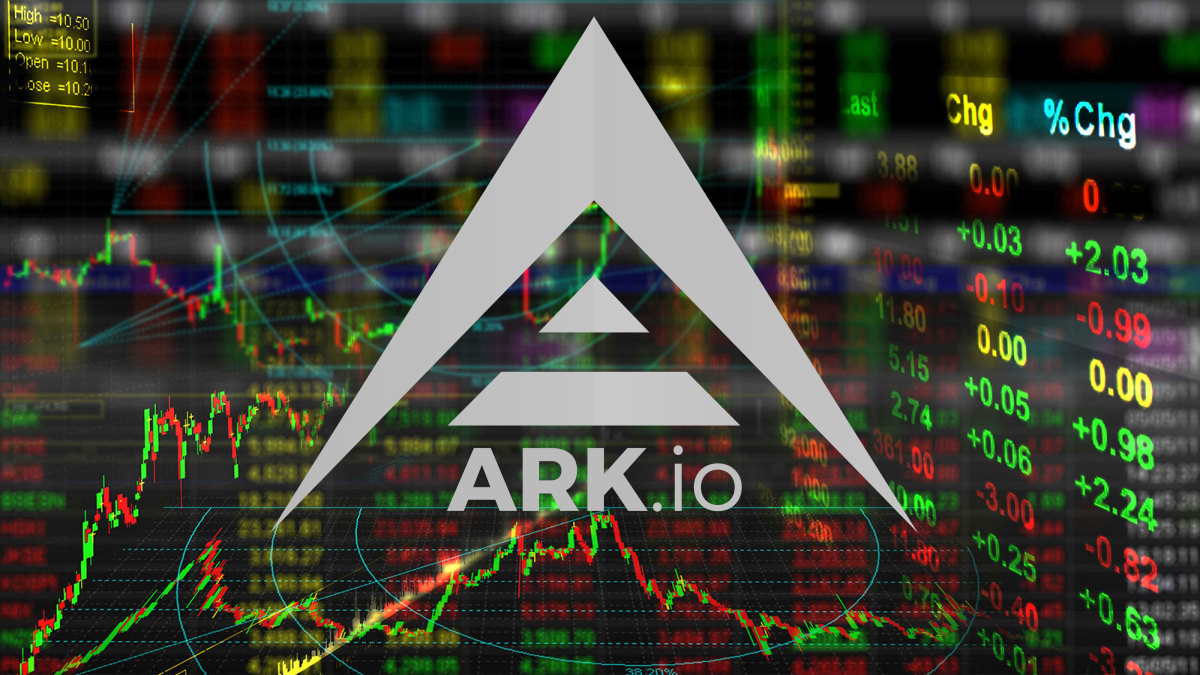 Binance, the world's largest cryptocurrency exchange, has officially enabled ARK staking on its exchange platform. Users can earn passive income by just holding at least 5 ARK coins on their exchange wallets.
Following Binanace's announcement, the value of the cryptocurrency ARK coin rose by 48 percent last night. At the time of writing, ARK coin is worth $0.214, giving it a $25.8 million market cap.
Ark is one of the most ambitious solid projects in the crypto space. Ark is an all-in-one blockchain platform that aims to create an entire ecosystem of linked chains and a virtual spider web of endless use cases that make ARK highly flexible, adaptable, and scalable.
What is Crypto Staking?
In practice, staking allows customers to earn what is essentially interest on any cryptocurrency they hold, rewarding HODLers with a stream of passive income.
Currently, Binance supports staking for several PoS (Proof of Stake) coins, including Stellar (XLM), Algorand (ALGO), NEO (GAS), Ontology (ONG), VeChain (VTHO), Tron (BTT), Komodo (KMD), Stratis (STRAT), and Qtum (QTUM).
ARK/USD Price
*Charts are provided by cryptocompare.com