ARK'S New Multiplayer Arcade Game: Minesweeper Flags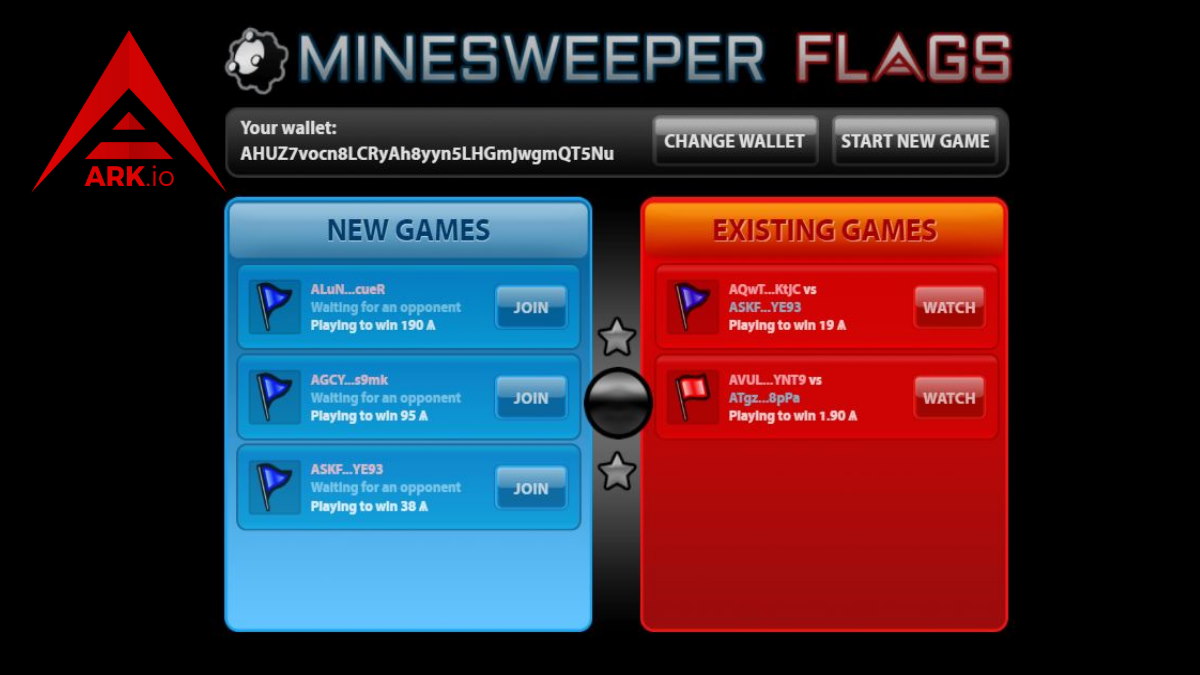 We all have those memories from childhood, the ones which follow us through our life. For me one of those memories is playing minesweeper on my old Windows PC. So, to say I was excited when I heard about the new ARK's game, Minesweeper Flags, a multiplayer blockchain game which is playable through ARK's Desktop Wallet for Windows,MacOS and Linux.
Minesweeper Flags game object is to uncover squares on a board without hitting mines. Clicking on a tile reveals a mine, a blank square or a number. You play against a real life opponent to win crypto coins.
The game can be installed to ARK Wallet through a plugin. Please follow the official setup instructions here.
---
ARK's Minesweeper Flags Walk-Through
Once installed, you will need to activate the game plugin then you are ready to go. You can launch the game from the plugins menu on your wallet.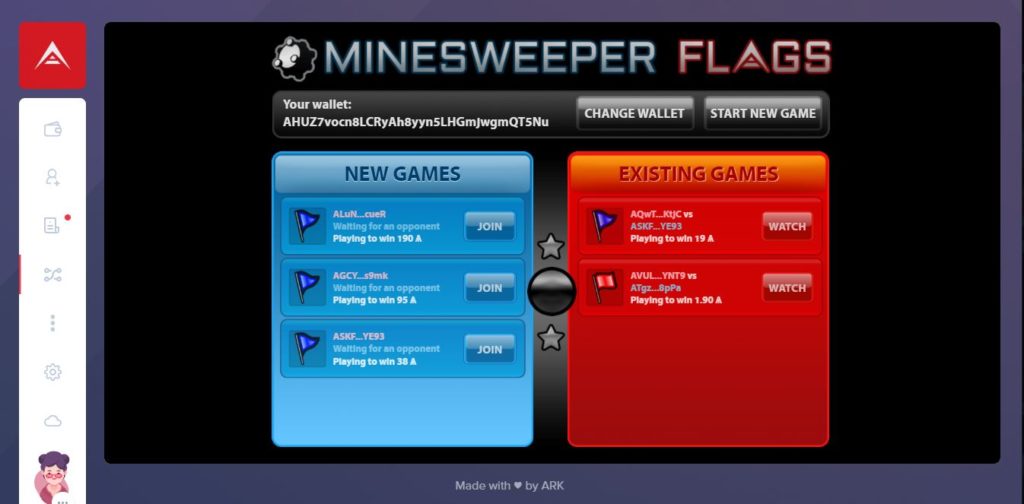 You will have the option to either join an existing game or to host and start a new game of your own.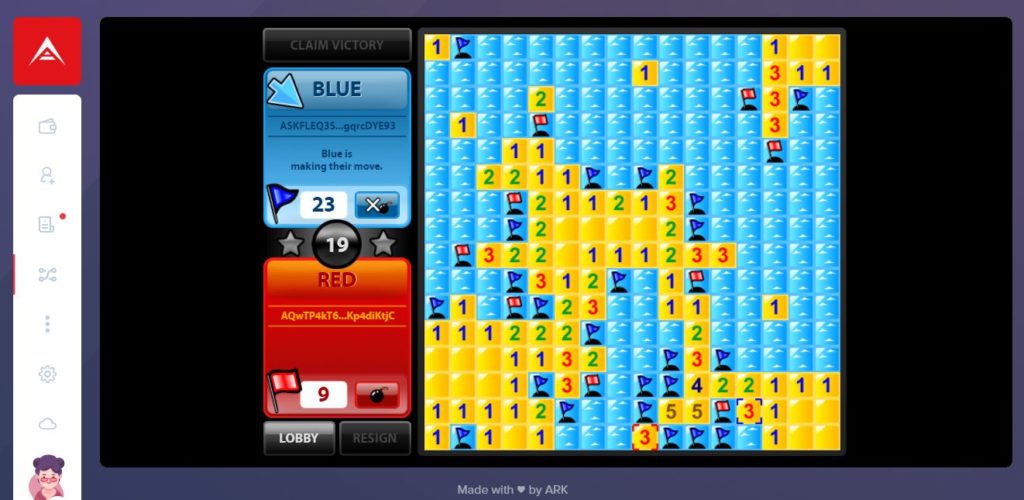 Starting a new game:
The game host sets a wager which the opponent matches before the game begins, and the winner automatically receives 95% of the pot, with 5% kept back for the costs associated with running the backend of the game.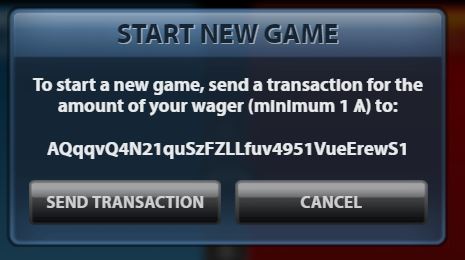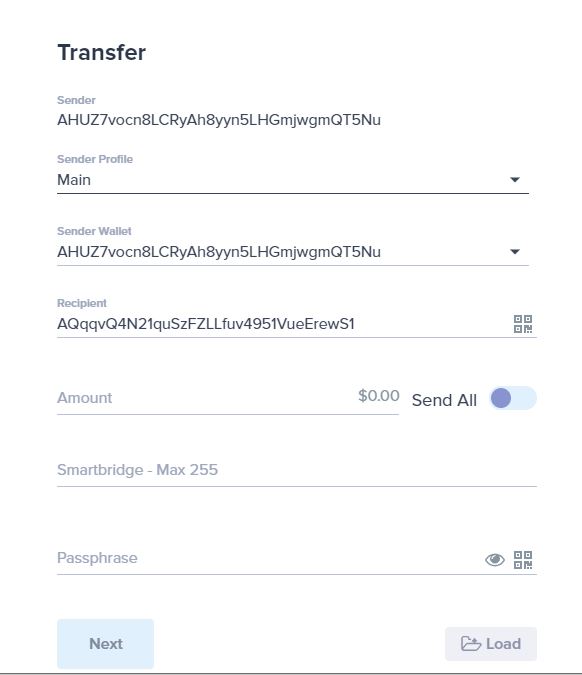 Conclusion
ARK's Minesweeper Flag is quite simple, the graphics are very simplistic but for a game of this kind it fulfills it's purpose. This is really a game that can be played over and over again. It's a true classic that no one should miss. The ARK team has done a good job of building a robust ecosystem and managing it well.
OKEx Exchange Adds Basic Attention Token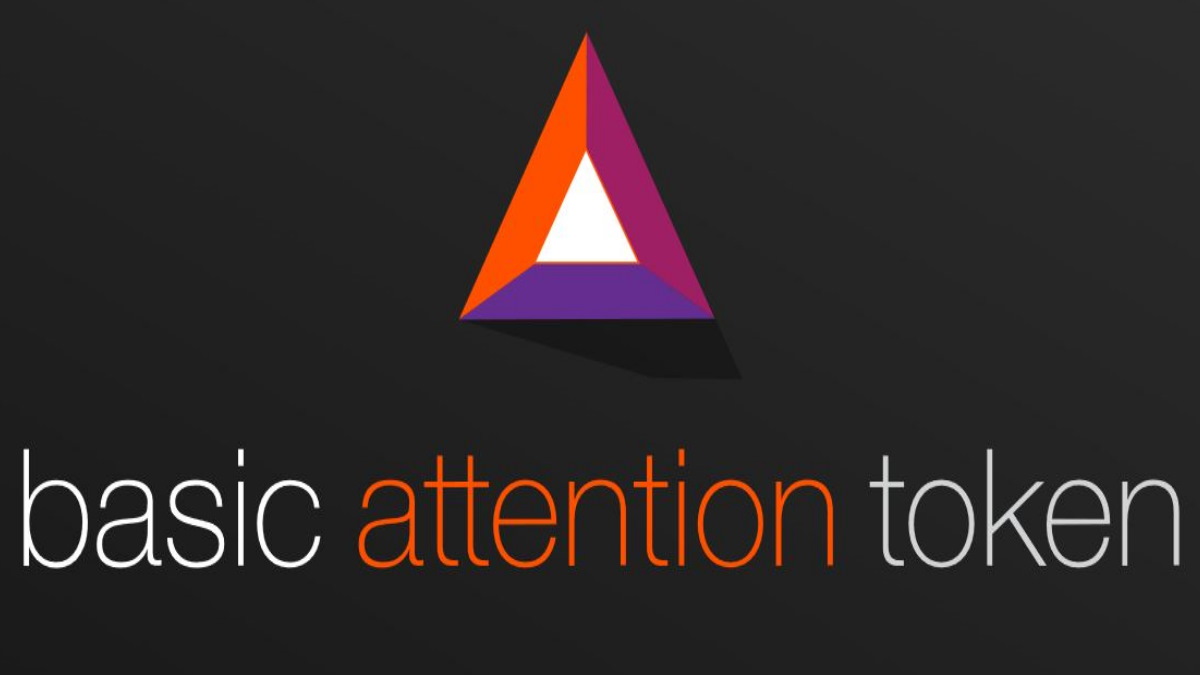 Basic Attention Token (BAT) has been added to OKEx cryptocurrency exchange. BAT tokens deposit has been enabled today and token trading will be enabled tomorrow. This is a great news for BAT community as OKEx is ranked among the top 15 exchanges with a daily trading volume of $1,519,756,182.
OKEx is a Malta-based cryptocurrency exchange. It was founded in 2017 by Star Xu.
What is Basic Attention Token (BAT)?
Basic Attention Token (BAT) is a digital advertising token which is built on the Ethereum blockchain. BAT project was created by Brendan Eich the creator of JavaScript and a co-founder of Mozilla foundation.
BAT is utilized within the Brave browser which is an opensource cryptocurrency based web browser that allows users to earn Basic Attention Tokens (BAT), by browsing and publishing content. BAT can be used to pay content creators and publishers through tips by their fans and users will also earn BAT cryprocurrency for viewing ads.
BAT/USD Price
IOTA Releases an Updated Wallet To Fix Trinity's Security Vulnerability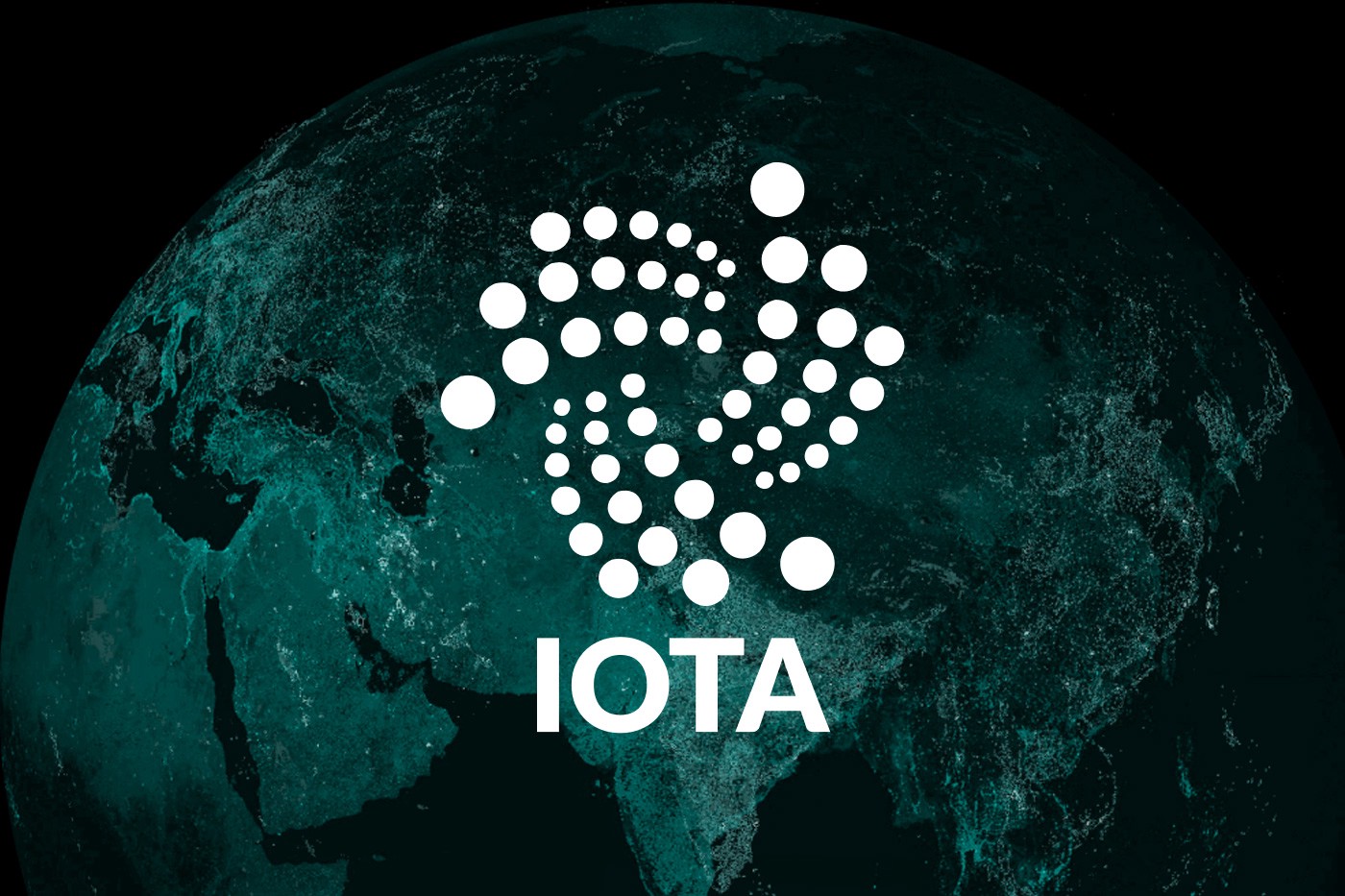 IOTA's team has released an updated version of it's own Trinity wallet to fix some serious security vulnerabilities that allowed hackers to exploit Trinity wallet that was released by IOTA last summer. The new updates is available for Trinity Desktop, Android and IOS
Almost all IOTA's users who have opened any version of Trinity (Desktop or Mobile) since the 17th of December 2019 are affected by this attack. Yet, only 10 wallets were hacked if not more.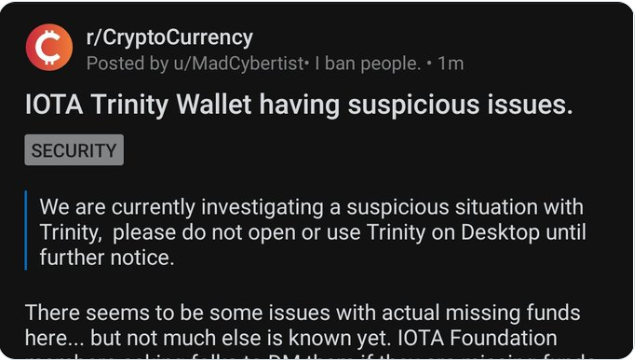 Iota team said that they are working with law enforcement and cybersecurity experts to track down the attackers. Yet, IOTA has revealed very few details about the attack.
A large amount of IOTA tokens have been stolen. The team predicts that $300,000 to $1.2 million worth of IOTA has been stolen so far. According to IOTA's Team, the hack started on or around 25 January 2020 and that only Trinity Desktop users' seeds were potentially compromised.
IOTA will implement a KYC procedure involving a third party that will enable all users who had their tokens stolen to reclaim them.
What is IOTA?
IOTA is a free and scaleable transaction settlement and data transfer layer for the Internet of Things (IoT). It is based on a novel distributed ledger technology, the Tangle, which overcomes the inefficiencies of current Blockchain designs and introduces a new way of reaching consensus in a decentralized peer-to-peer system.
IOTA USD price chart for the last 7 days:
Enjin (ENJ) , the blockchain gaming platform is now live on Ethereum Mainnet. Enjin project is a robust, all-in-one blockchain game development platform that helps developers crowdfund, grow, monetize, and design the digital world of their dreams.
To celebrate the public launch of the new Enjin Platform, Enjin will be giving away limited-edition collectibles, ENJ based gaming assets and 50,000 Enjin coins.
Enjin has its own marketplace EnjinX, where users can buy/trade any ERC-1155 assets to used in Enjin based games. The market is currently charging 2.5% trading fees.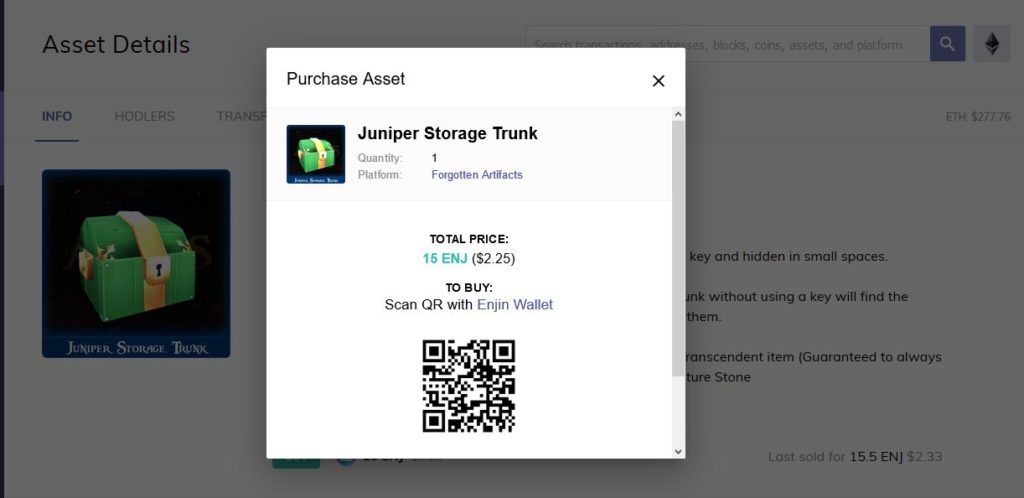 Last year, Enjin announced a partnership with Samsung that integrated ENJ technology with Samsung Galaxy S10 models. This announcement sent the price skyrocketing and created a major media buzz for Enjin Coin (ENJ).
All assets/items created using Enjin's development platform are backed by a nominal amount of Enjin Coin (ENJ) to certify their authenticity. The Enjin Coin ICO was held in 2017, raising approximately $22 million worth of ETH.
Enjin (ENJ) Coin Price Chart